Another chilly night with a beautiful full moon to light the landscape. I was exhausted and glad to turn in for the night. Off in the distance, I could see the city lights of Page Arizona to the south which was to be my morning destination.  I woke up at first light just before the sun came above the horizon. I had a little breakfast and prepared for my trek down the cliff.  Although I am uncertain the height i was at from the valley below, it was pretty high and I had a great view. Off to the distance, I could see Glen Canyon National Recreation Area.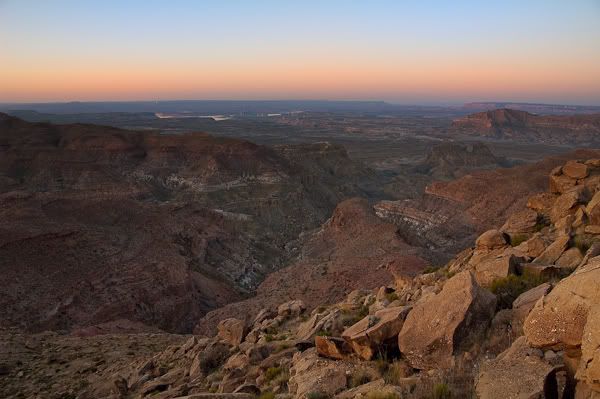 Of course the road was not paved and some of the places along the edge of this cliff were pretty iffy. This is not the kind of place you just want to floor it and get down as soon as possible especially if you have never been to this locale before. Lots of switchbacks on this primative road with deep rutts. I had to hug the inside part of the road just in-case.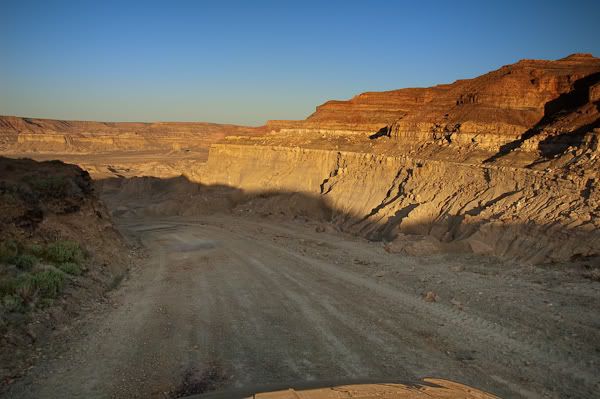 It took a good hour to get down before I hit the flat. This time of morning is the best for taking photographs and is known as "The Golden Hour". The way the rolling hills cast shadows created some very beautiful scenes even in this barren land. The soil was extremely dry and had cracked in many places. And one thing is for sure, you do not want to be stuck out here without food or water. Daytime temperatures can get very hot and with no humidity, it is difficult to judge your limits before you end up dehydrated.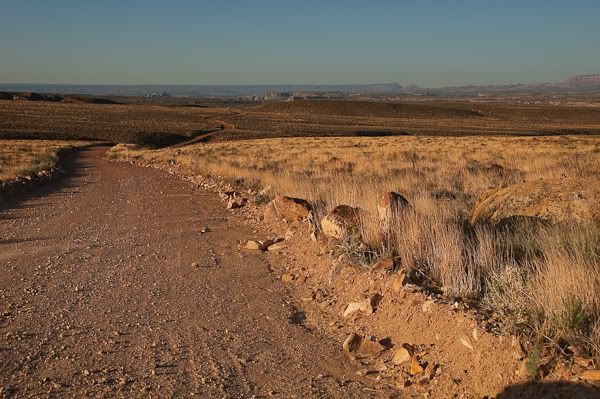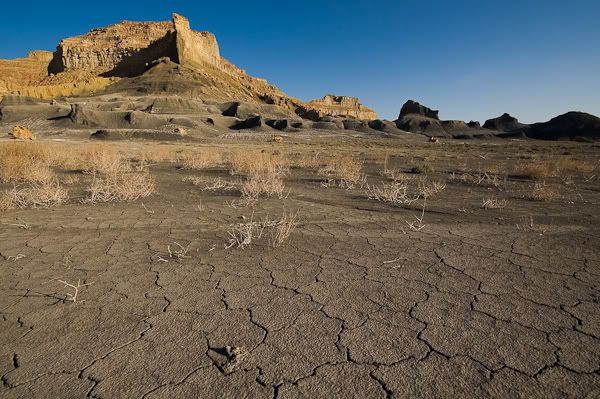 It was a 21 mile jaunt through these dirt roads before I entered the town of Big Water Utah. The population in 2000 was 417, but I didnt see one person. As early as it was, they were probably all sleeping.  Once I hit highway 89, I headed east to Page for another 14 miles or so.
Prior to entering the town, you have to cross the Glen Canyon Dam.  What a sight to behold.  A very large structure that created Lake Powell.  The water running through the dam is the Colorado River and heads south toward the Grand Canyon.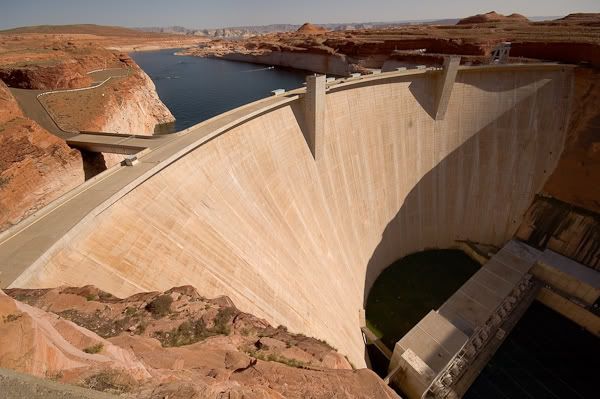 I wanted to take photos of Upper Antelope Canyon but couldnt decide if I should take the time out to do it. I ended up driving south just outside of Page and pulled off the road to hike 1/2 mile to Horseshoe Bend. This is a magnificant place. You stand at the edge of a cliff 1,000ft above the Colorado River. The views are incredible althoughit is not for those with weak constitutions. While I was there, I met a fellow photographer from Scotland. We walked the trail to the bend and talked about what else? Photography.
He took this photo of me…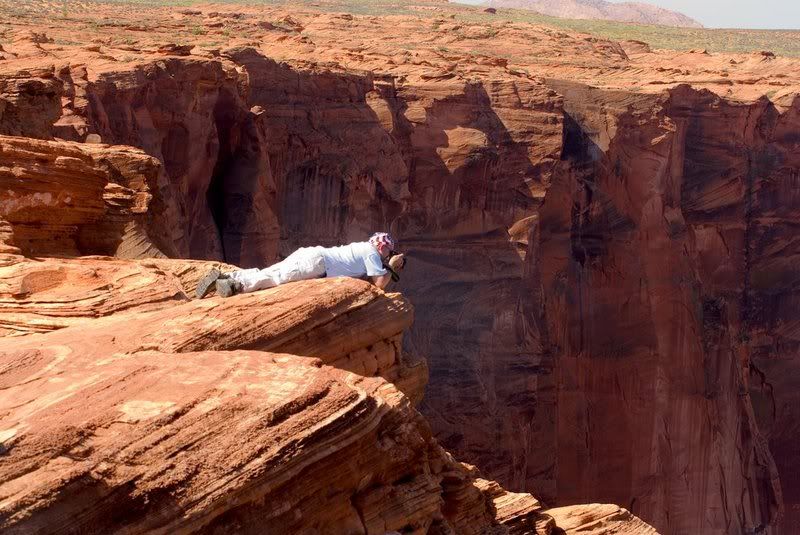 …taking a photo of this!  Thats 1,000 feet straight to the bottom! (Taken with Sigma 10-20mm @ 10mm)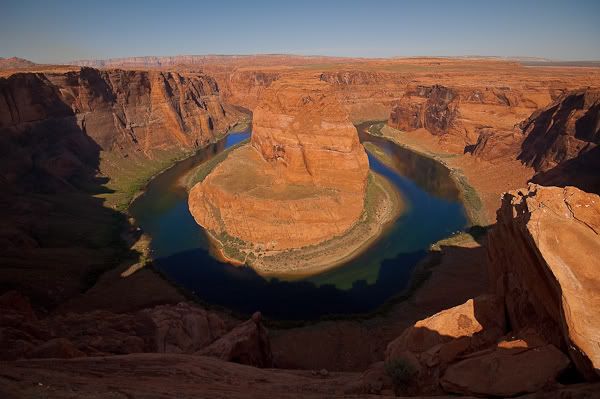 I walked around for a while taking photos of all the different rock textures and a lizard that looked like a dinosaur.
My new friend and I split off. I drove back up to Page to find Antelope Canyon.  There is a powerplant that was built and seems a bit out of place with the natural surroundings.  This place is called the Navajo Generating Station and provides 2280 megawatts of power to customers in Arizona, Nevada and California.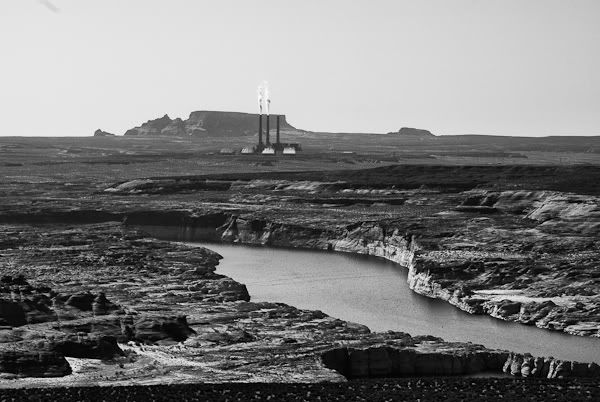 When you arrive at Antelope Canyon, you have your choice to go through the upper or lower canyon. I chose the upper for its narrow passages. You have to pay a fee and hire a Navajo guide before you can enter the canyon. They have scheduled trips that drive you 10 miles to the canyon on a sandy wash road…which was quite fun to drive.
Wow, what a spectacular place. In Navajo, this place is called Tse' bighanilini which means the place where water runs through the rocks.  Years ago several people were killed here as a result of a flash flood.  They were  walking through the canyon and a rainstorm seven miles away, caused a huge area of water to rush through the lower canyon killing 12.
It is dark once you go inside the canyon and any photography must be done with long exposures.  As a result, many photographers were getting frustrated as they were taking their shots because other people from the opposite side, who didnt know someone was photographing, would walk right in their frame.  I managed to get provestra testimonials several shots. And what was remarkable, were the sunbeams shining through.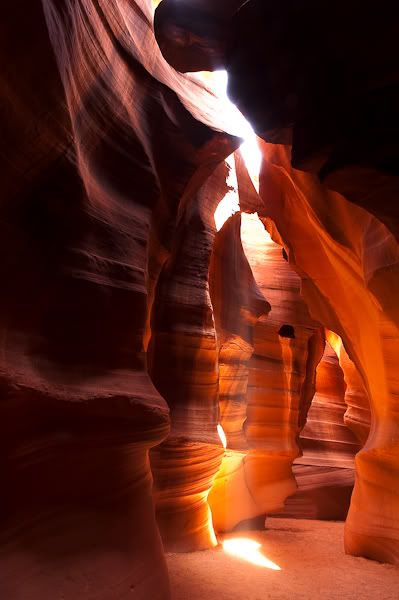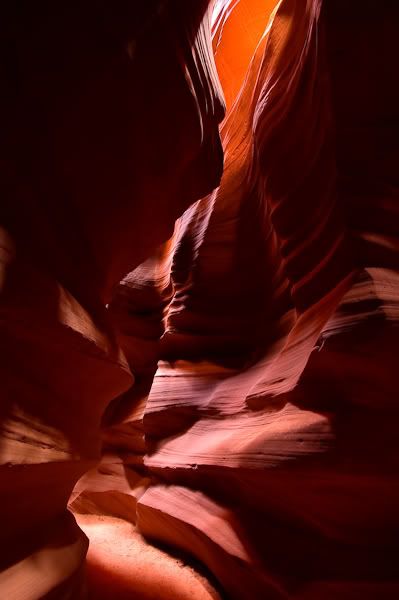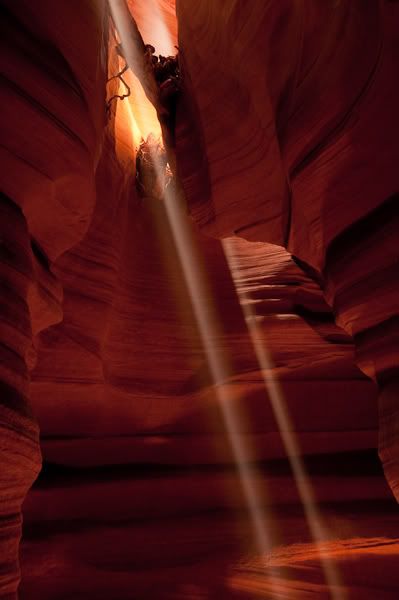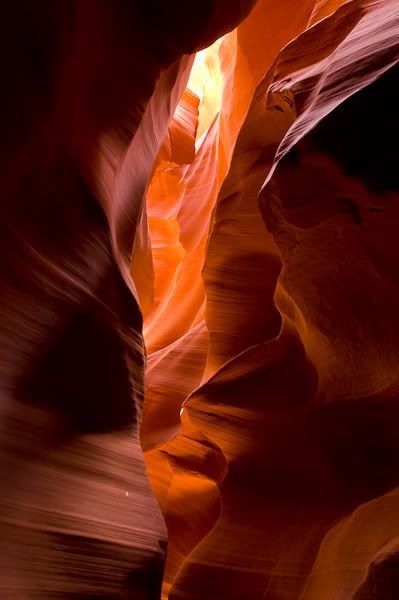 Now, for the past several days, I had eaten snack food like roast beef, ham and jelly sandwiches. As I was heading out of town, I saw the golden arches and knew I had to stop for a #3 quarter-pound cheesburger meal. Man was that delicious.
Now it was time to get back on the road. I took highway 89 south towards the Grand Canyon and near the vermillion cliffs. Along side of the road, I decided to stop and finish the rest of my lunch.  There were some Navajo women selling  jewelry on the side of this cliff, so I decided to have a chat with them.  They were just like my dads side of the family and talked just like em too. Felt a little like home.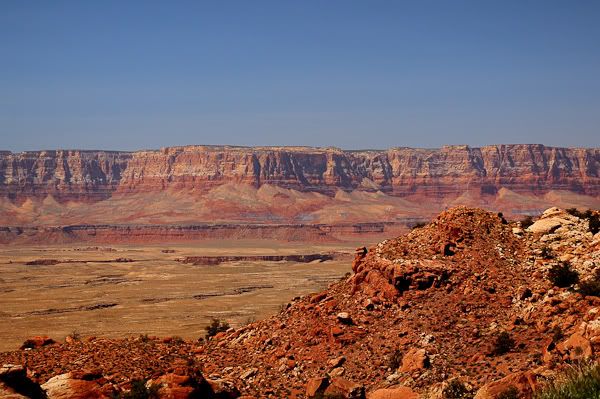 Once at the bottom of the cliffs, you have to cross a canyon bridge that once again, crosses the Colorado River. This place is cool because it is a California Condor habitat.  I spoke to a guy from the condor recovery foundation and learned alot about these huge birds. How they help locate bodies of hikers lost in the Grand Canyon which I know sounds morbid, but a useful science.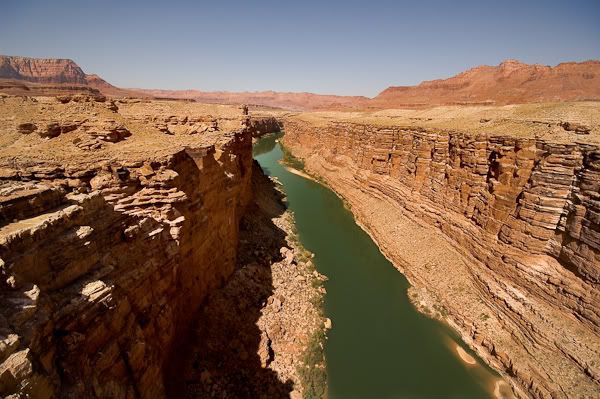 Unfortunately the North Rim of the Grand Canyon was closed due to snow…still. So I continued on to Zion National Park in Utah which was only another 107 miles from here.  Along the way, the views were very expanse.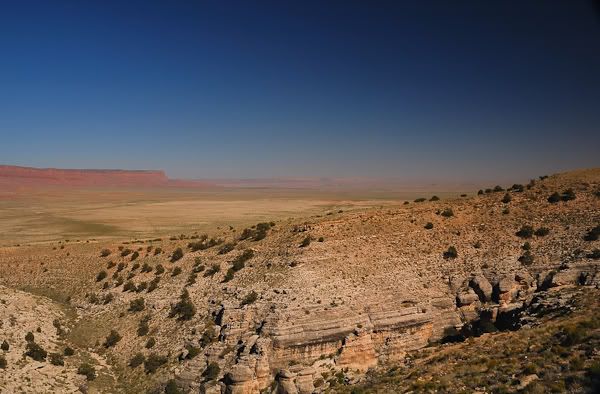 And then I looked up and saw what I thought was a hawk.  I took several photos of it and when I got back in the car, I took a look and zoomed in.  Much to my amazement, it wasn't a hawk. It was a California Condor easily identifiable by the C-tags on the wings which I had just learned about at my last stop. What an enormous bird.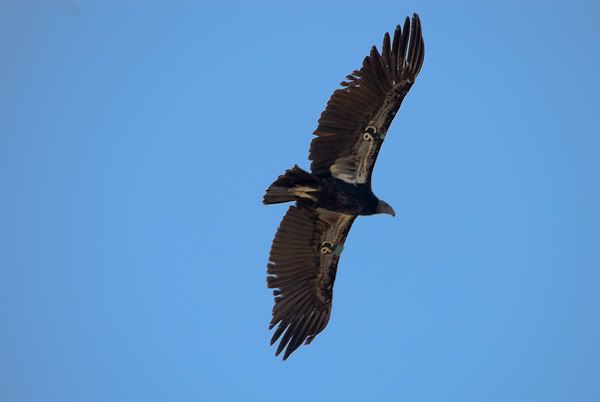 Once I arrived in Zion, the road going in was terribly busy with tourists. And although the scenery was beautiful, the sun was starting to set and I knew I had to get back north of Las Vegas for my final night of camping. Too bad too, because I wanted to stay longer.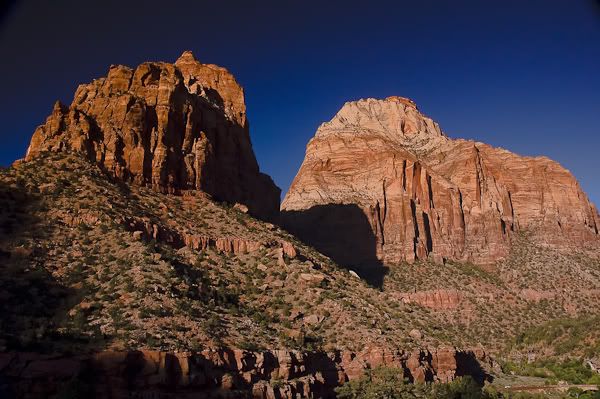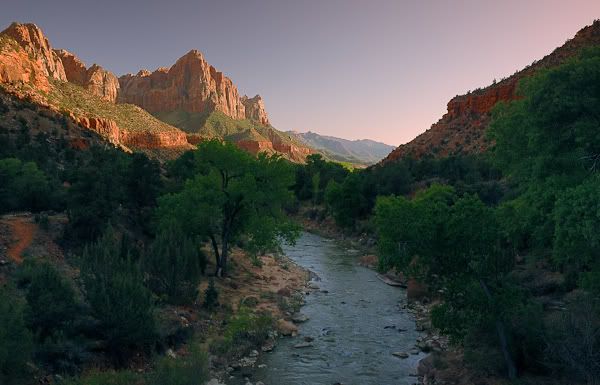 I stopped to take a wonderful photo of twilight. The sky was beautiful in this desert.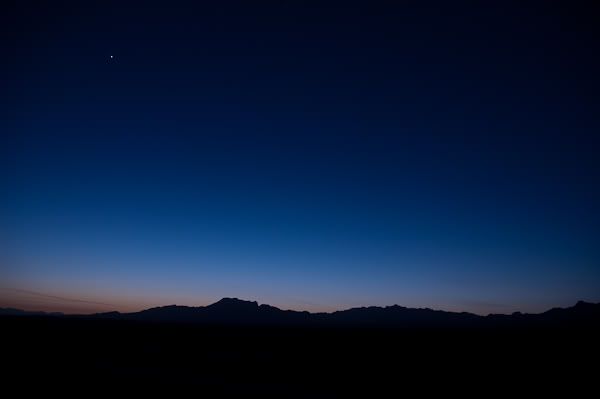 Unfortunately I never made it to my final destination north of Vegas. Instead I pulled over to a place called Valley of Fire. They had a small campground and to my dissappointment, I had to camp among tourists with large RV's. Sorry, not my kind of camping. I did manage to get a few long exposure shots of the moon illuminating the rocks.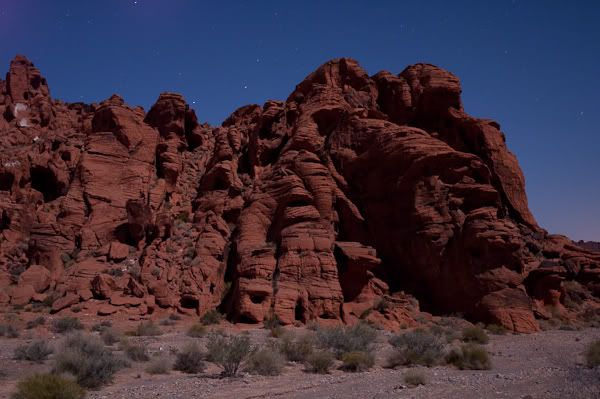 When I parked the car and was setting up camp, a guy next to my spot came over to warn me that he just tossed a rattle-snake out of his camp into mine just before I parked the car…oh great!  I quickly ate my dinner always trying to be mindful of snakes.  I sat with my new neighbors which was a total disaster for me. They were very loud, drunk and used the foulest language I have heard in a long time. Definately not a good time.
I told them good-night and headed to the public restroom.  Whoa! there were bats everywhere feeding on the insects.  There were black widows hanging everywhere…yikes!  That night, it was alot warmer and I slept in the car with the windows up to keep all the creepy crawlies away.
The following morning, I got up before anyone else did at the camp and headed back 50 miles to Las Vegas for my return trip home.  This trip was exhilirating and already have ideas for my next venture out to Utah.  If you ever plan a trip out this way, contact me and I will be happy to share a series of different routes with you.  In fact, I gave a guy from Europe who posted questions on a photography forum and asked for some advice. He was going to be visiting the US for a 3 week driving tour. The only issue happened to be that he was handicapped and in a wheelchair so he couldnt get off the beaten path.
I detailed a couple different routes from California to Montana back to Arizona.  Several months later, he emailed me saying he took my advice and had an absolute wonderful trip with photos to boot!
I hope you enjoyed this Utah journal as much as I did writing it.  Thank you for viewing!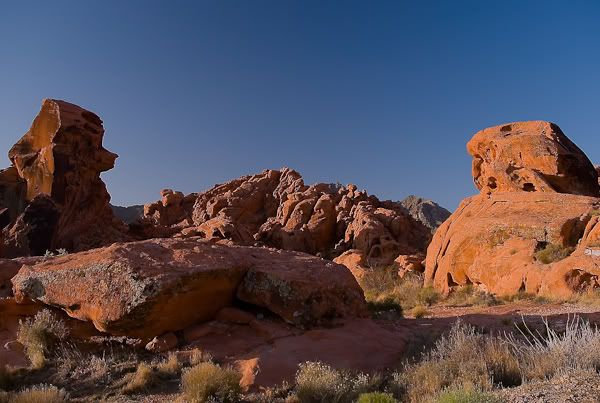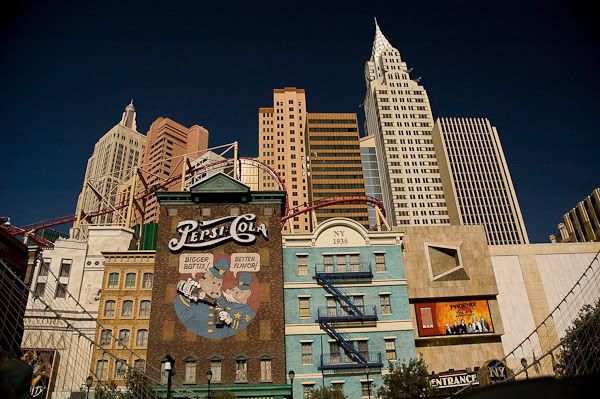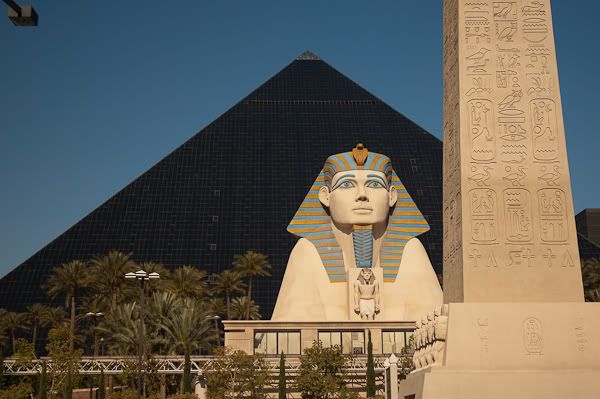 ---