In October of 2007 I had the priviledge of taking a two day journey through the front range of the Colorado Rockies. Driving approximately 530 miles of pure grandure through God's country. You can view my journey via Google Maps by clicking this link.
My journey started from Denver International Airport where I rented a 4×4 jeep. I will say that on this trip, a smaller car would have been sufficient since I didnt travel on any dirt roads. My first stop was Mt. Evans just south of Idaho Springs. Mt. Evans is located within the Arapaho National Forest and it is here where you can drive on the highest paved road in North America. At 14,130 feet, the scenery along the road is georgous and extremely intense. Much of the road is narrow and does not have any guard-rail so if you are riding on the outside, you may want to distract yourself if you have a problem with heights. Once you are close to the top, you can stop and visit summit lake.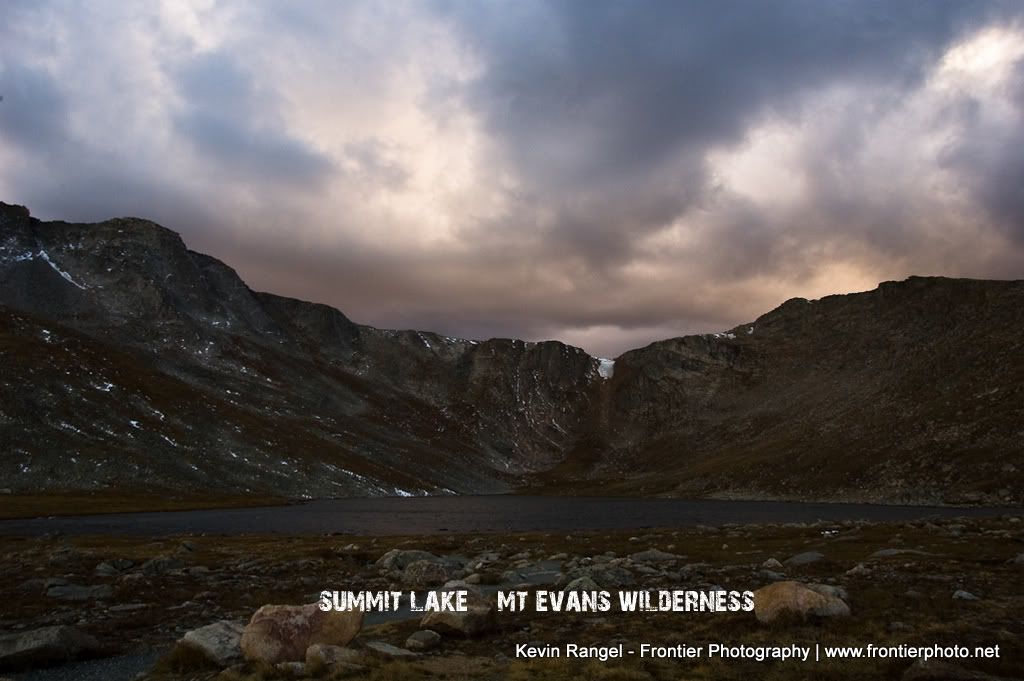 The weather wasnt the greatest but I was fortunate that it was even open. In October, Mt. Evans can receive snow that is not measured by the inch, but by the foot. It was cold and windy.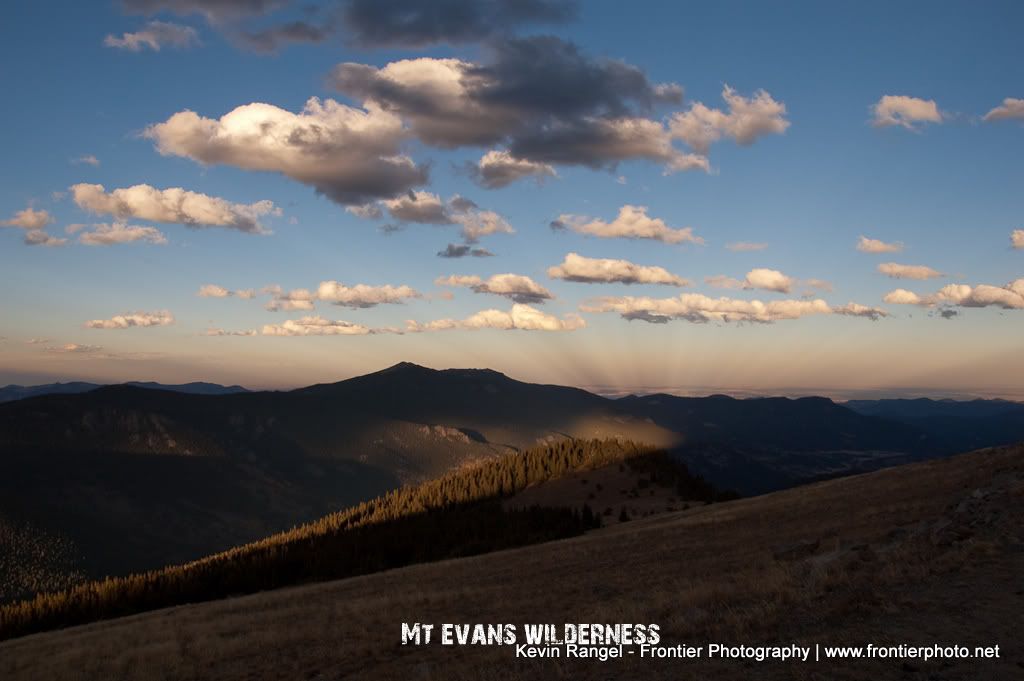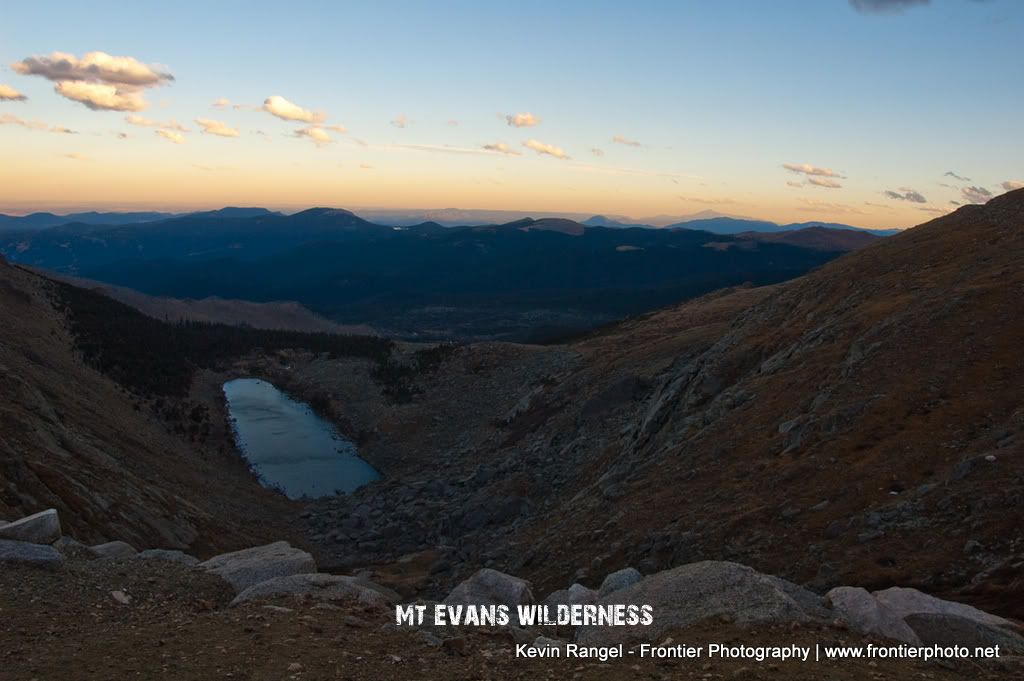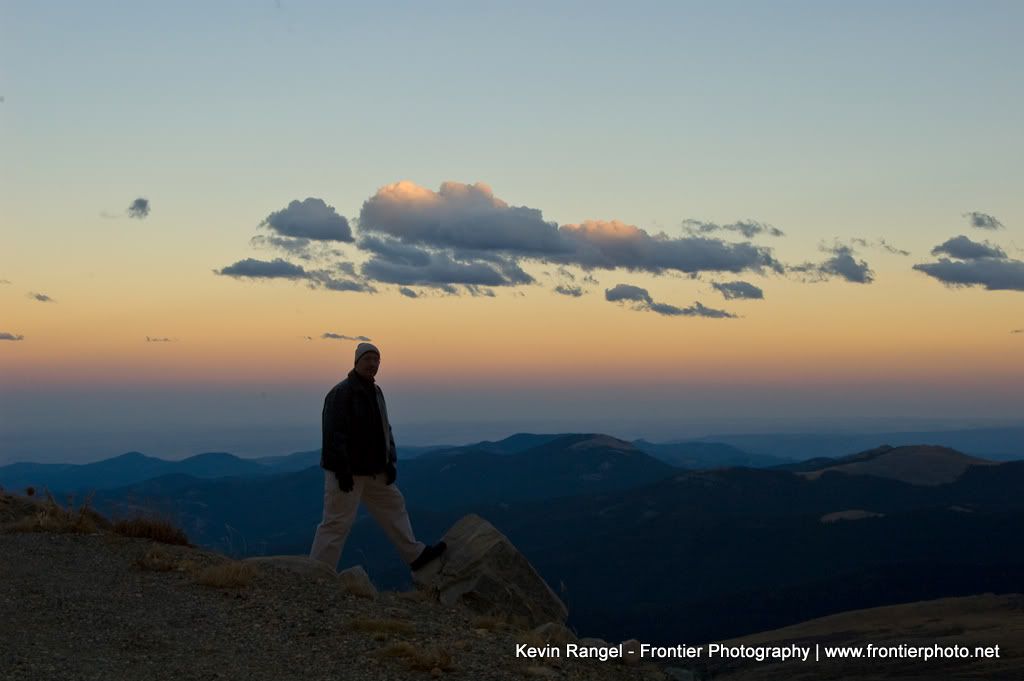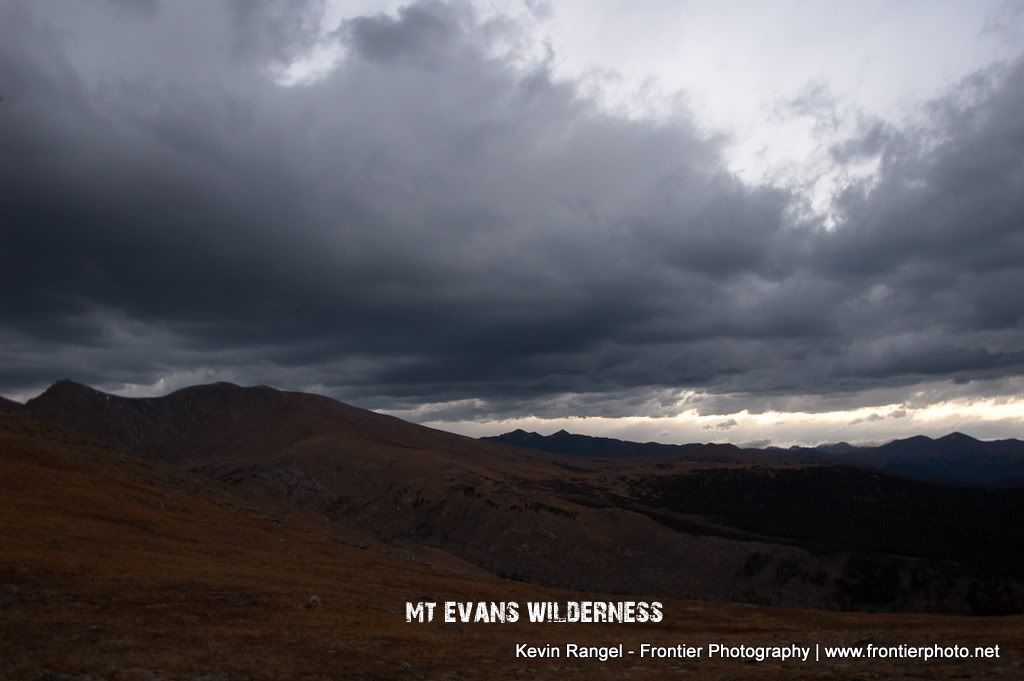 From here it was a lengthy drive to Leadville Colorado. Leadville is a small town with a population of 2,688 and sits at an elevation of 10,152ft. Leadville has alot of historic buildings still standing from the mining era in the 1800's.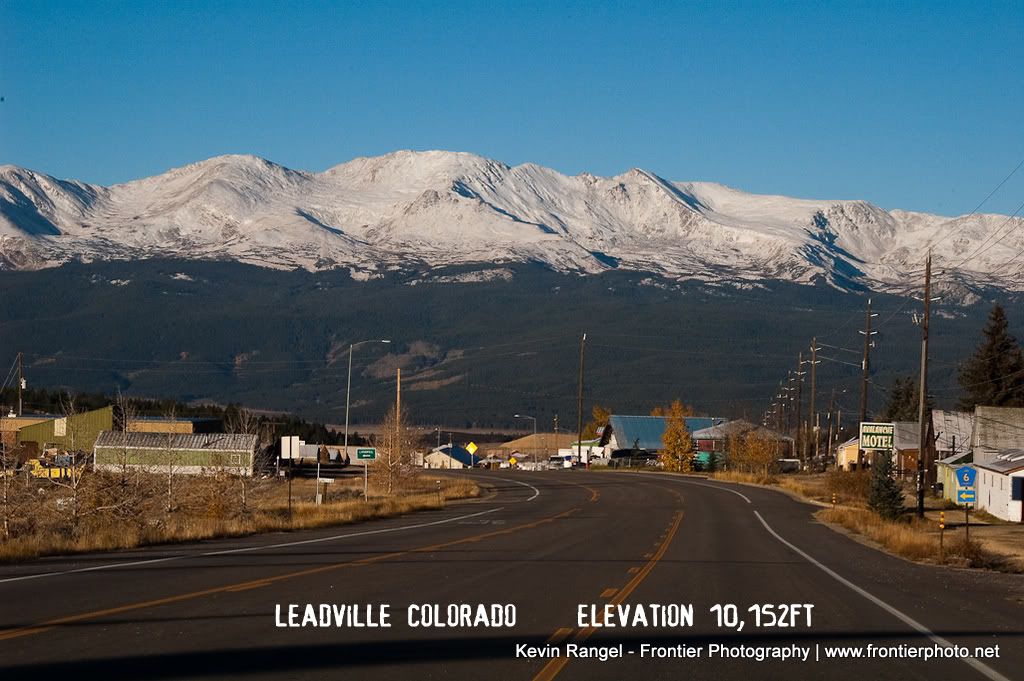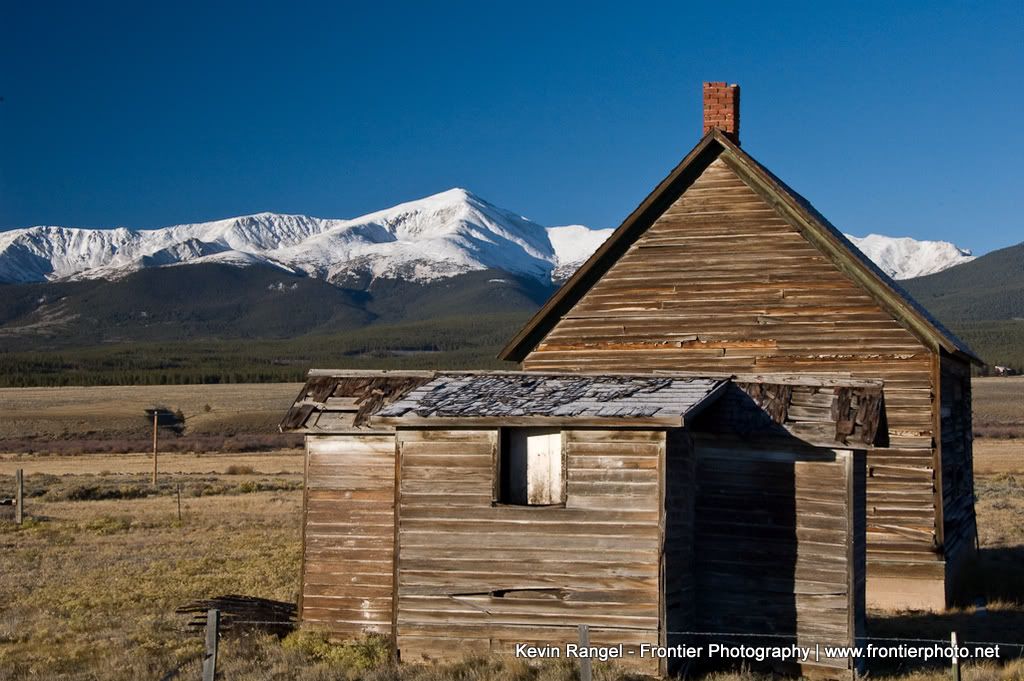 I took highway 24 south to 82 west at Balltown. As soon as you make the turn you are met by the Sawatch Mountain Range with Mt. Elbert which is the tallest mountain in the North American Rocky Mountains at 14,443ft. This range of mountains is impressive to say the least.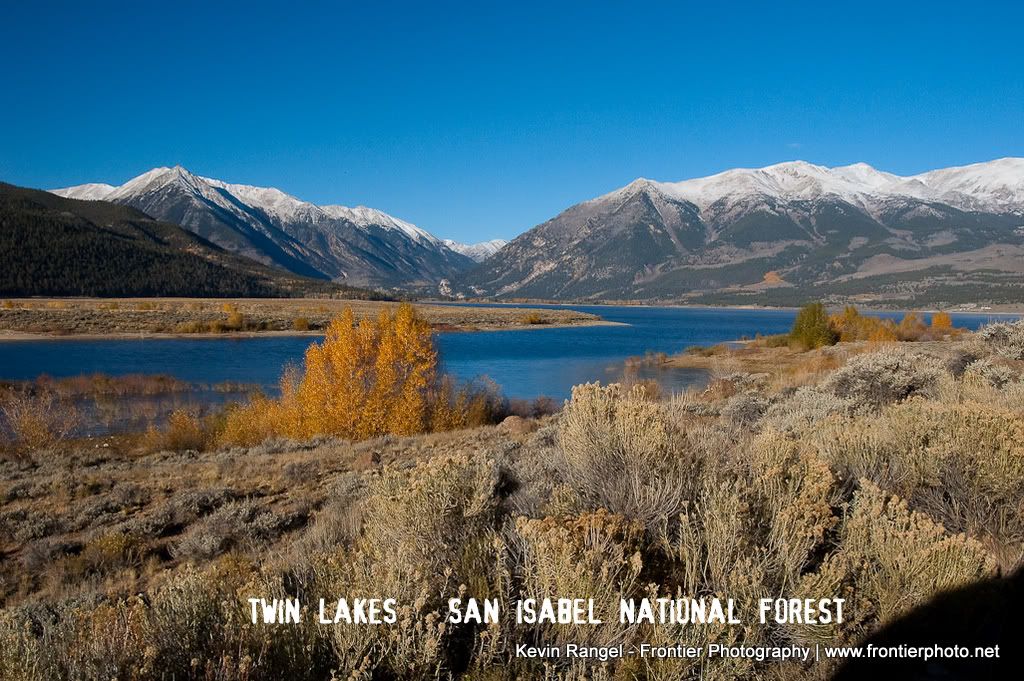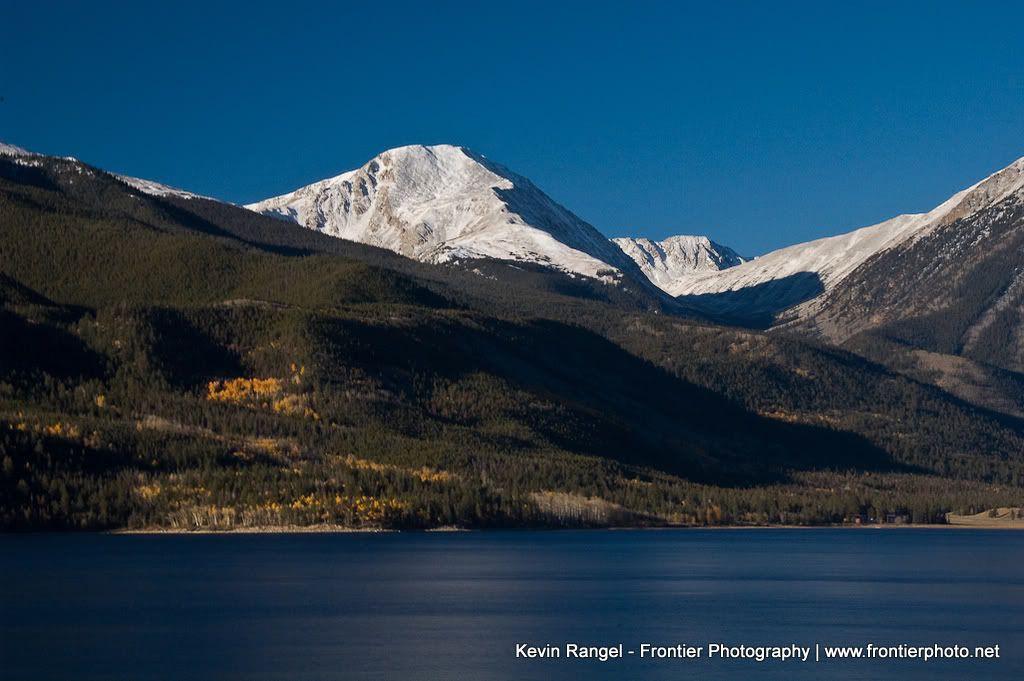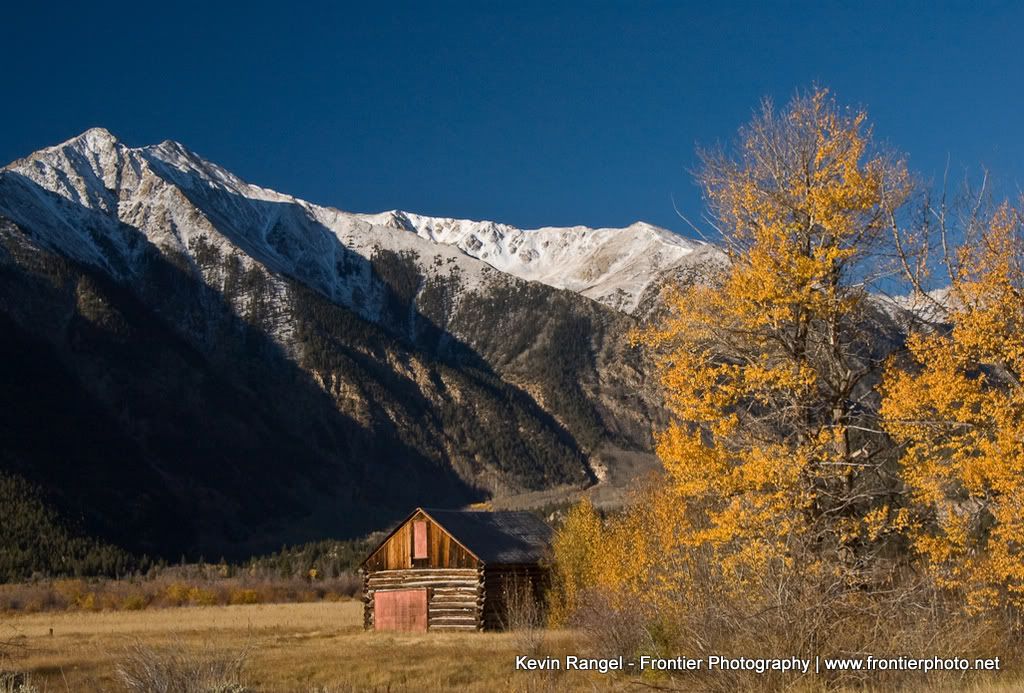 My destination before making my return trip was the Maroon Bells south of Aspen. However, I first had to cross Independence Pass. The road up to the pass was easy but very enjoyable. Once I passed the tree line (elevation at which tree's no longer grow) I ran into snow and ice. The view's were superb!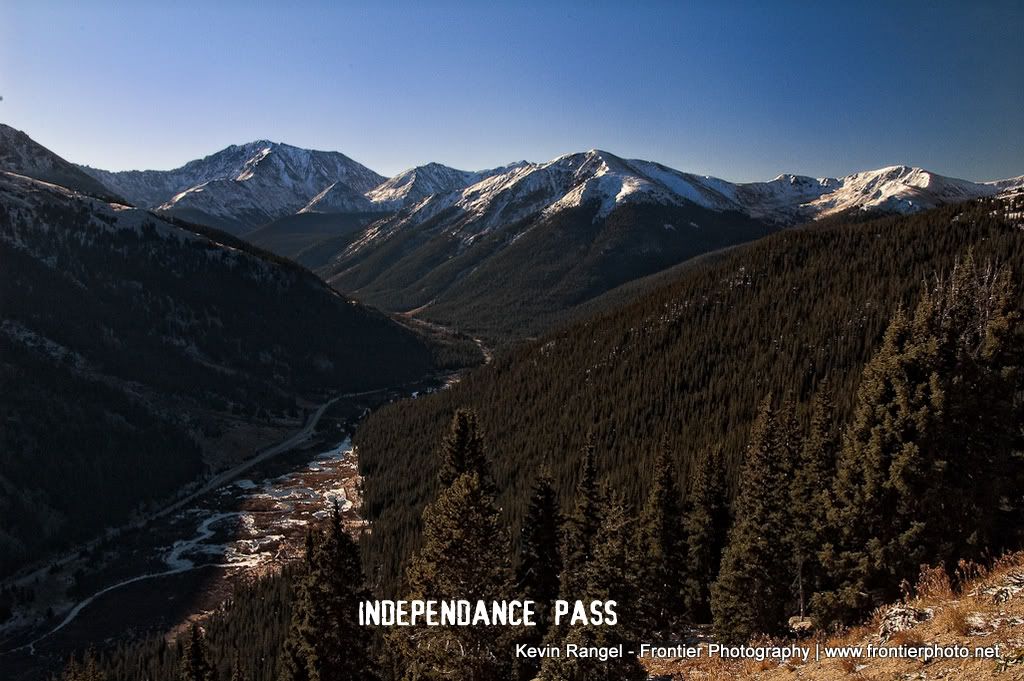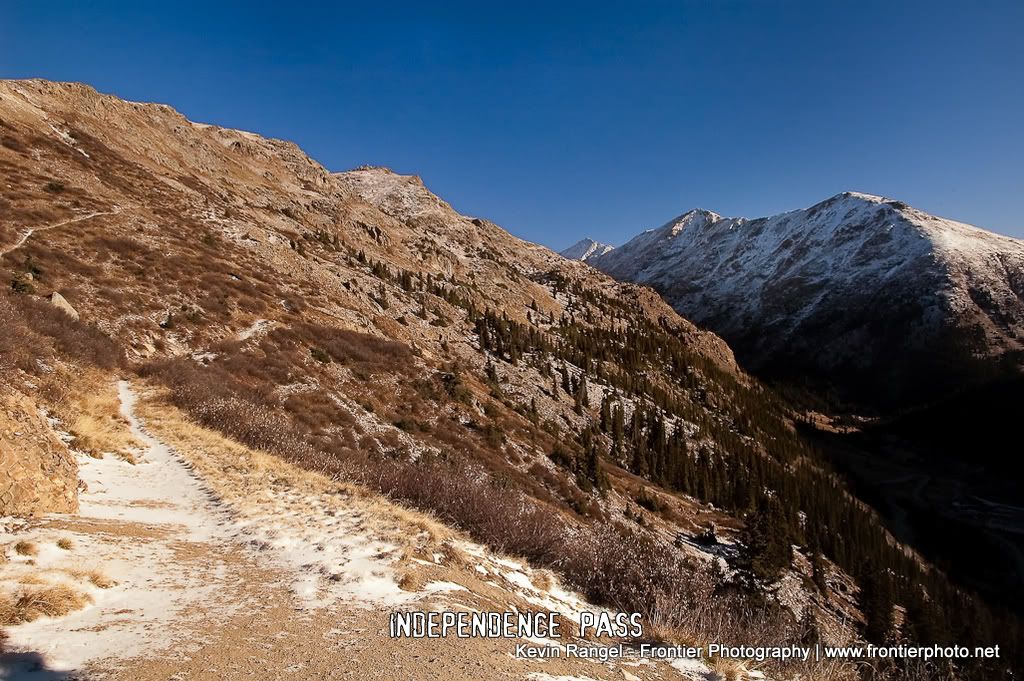 The approach to the pass is a steep 6.5% grade. Once at the top, the temperature plummetted. Independence pass is located along the continental divide at an elevation of 12,095ft. Here you can start to feel your body reacting to high altitude and lower oxygen levels. I had to park my jeep and have a look around. The ponds and lakes here are frozen solid. A very harsh place.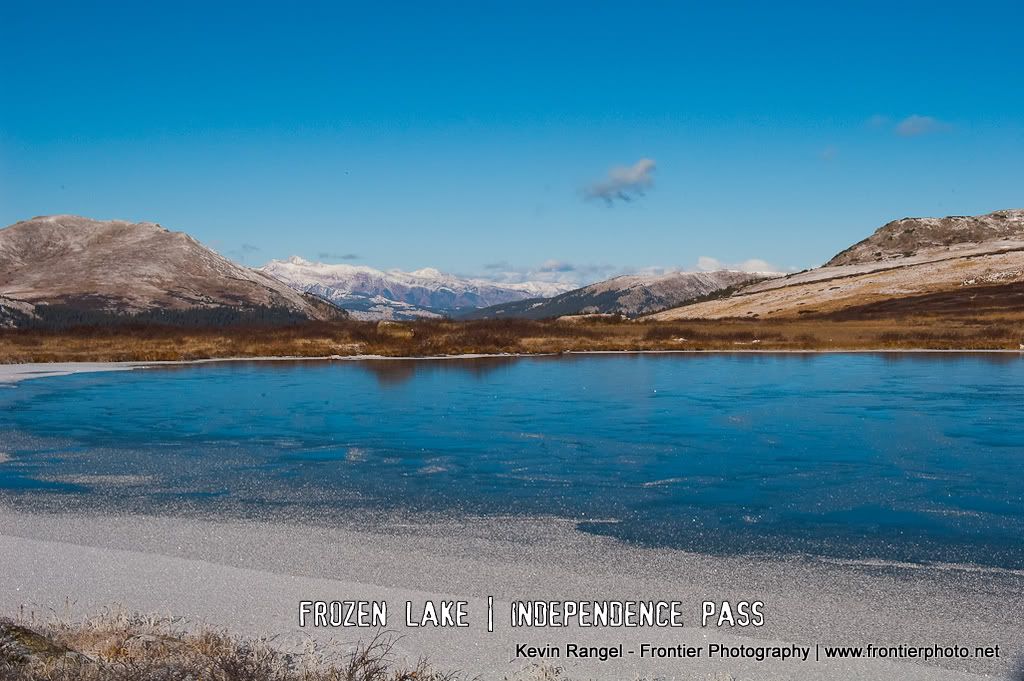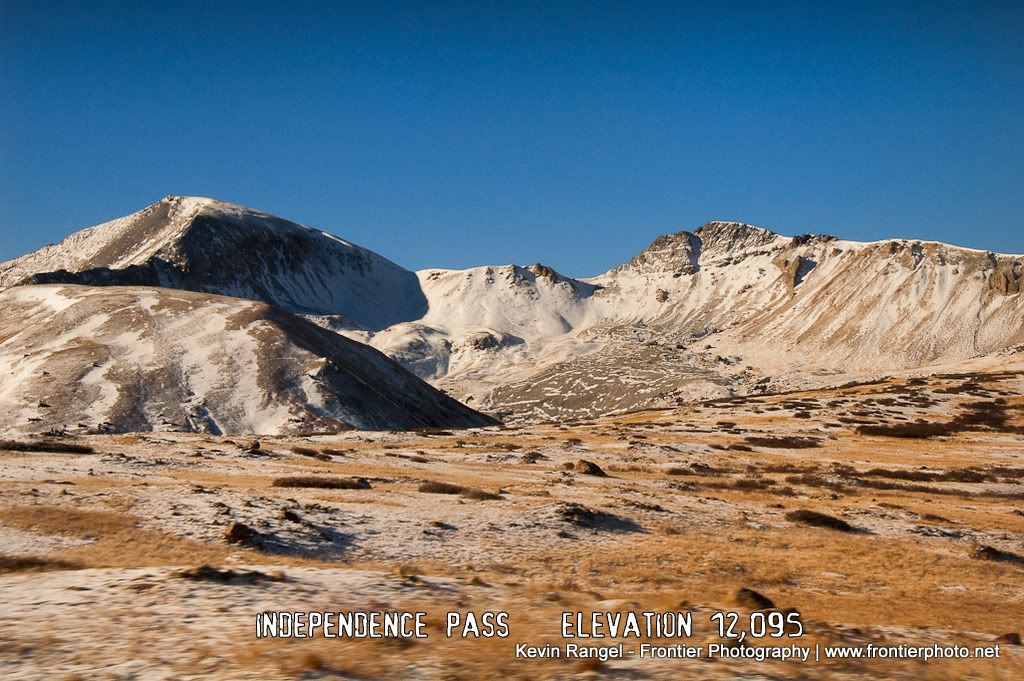 Heading down from Indpendence Pass there were not as many switchbacks to manuever although the grade was still about 6.5%. And once you cross the tree line, you cross into the White River National Forest which in my opinion was pretty dense.
The drive from Independence Pass to Aspen was about 22 miles. Turn left on Maroon Creek Rd which is also known by County Rd 13 for about 9 miles. It was interesting because the dark or shadow side of the mountain still had some snow while the sunlit portions were melted.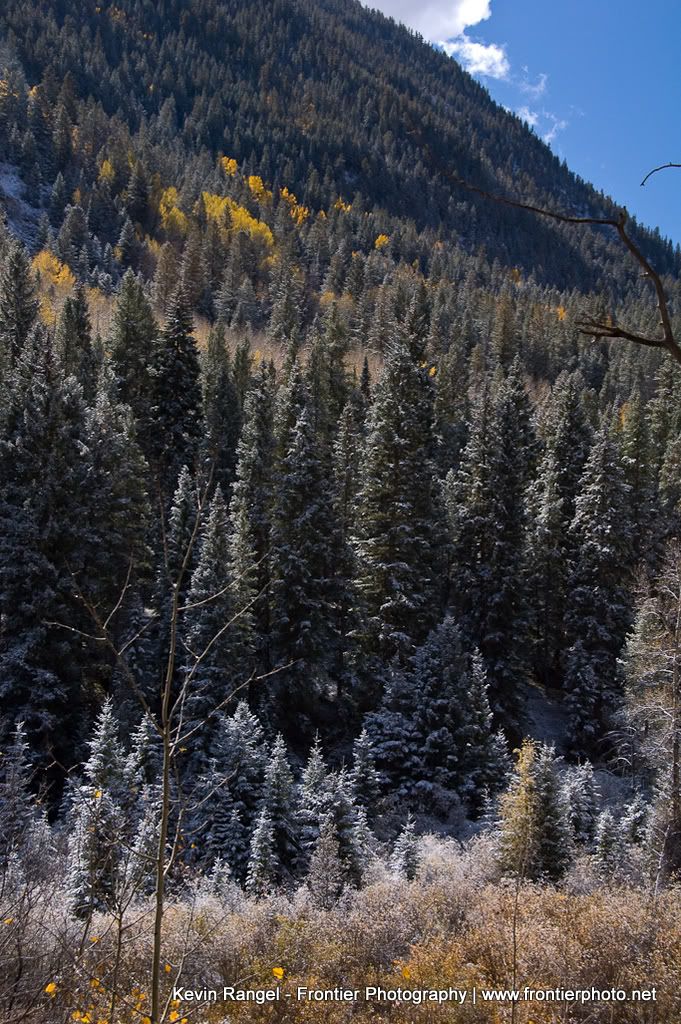 As you get closer to the end of the road, Pyramid peak comes into view at 14,025ft. What an awsome humongous piece of rock. Driving through groves of aspen tree's created such a beautiful scene. However, the day before a snow storm had passed through knocking much of the beautiful golden leaves off. Fortunately there were some spots were the trees were georgous.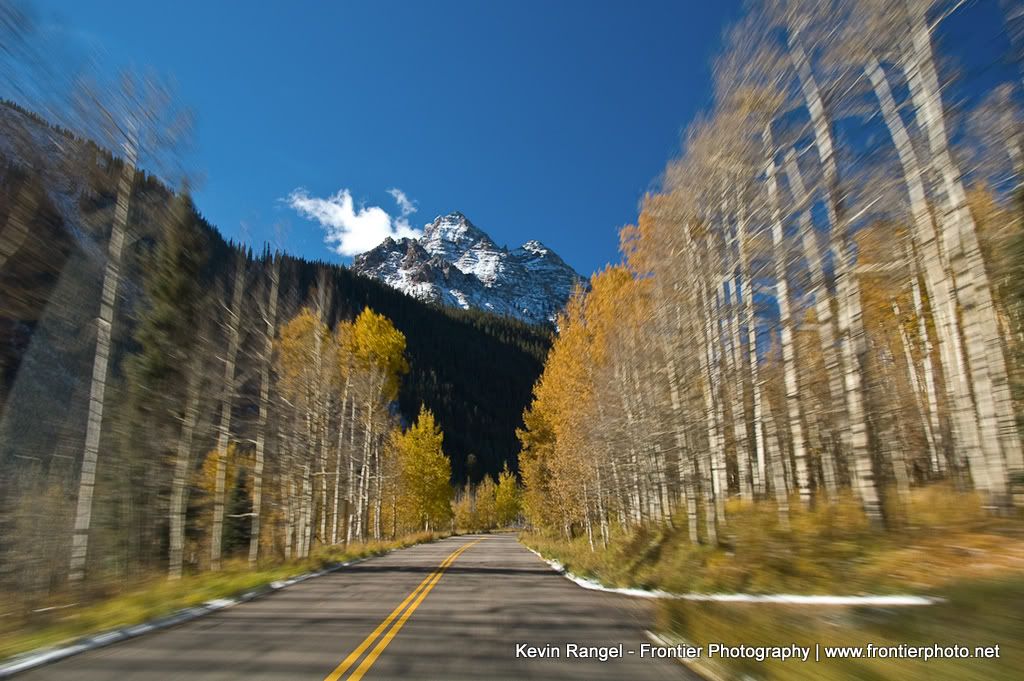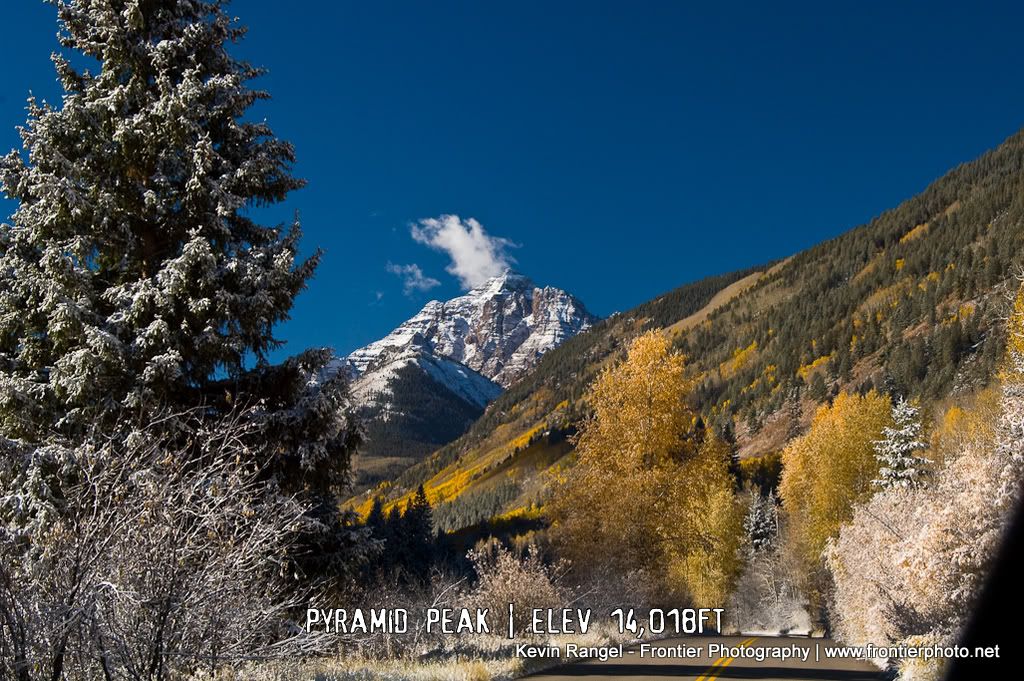 Finally I reached them. The Maroon Bells. What a georgeous view!.
The Maroon Bells are located in the Elk Mountain Range with the borders of the White River National Forest. The two peaks, Maroon peak (14,156ft) and North Maroon peak (14,014ft) are the most photographed peaks in all North America. Once you get to the end of the road, it's time to put on your pack and hoof it if you want to venture any further.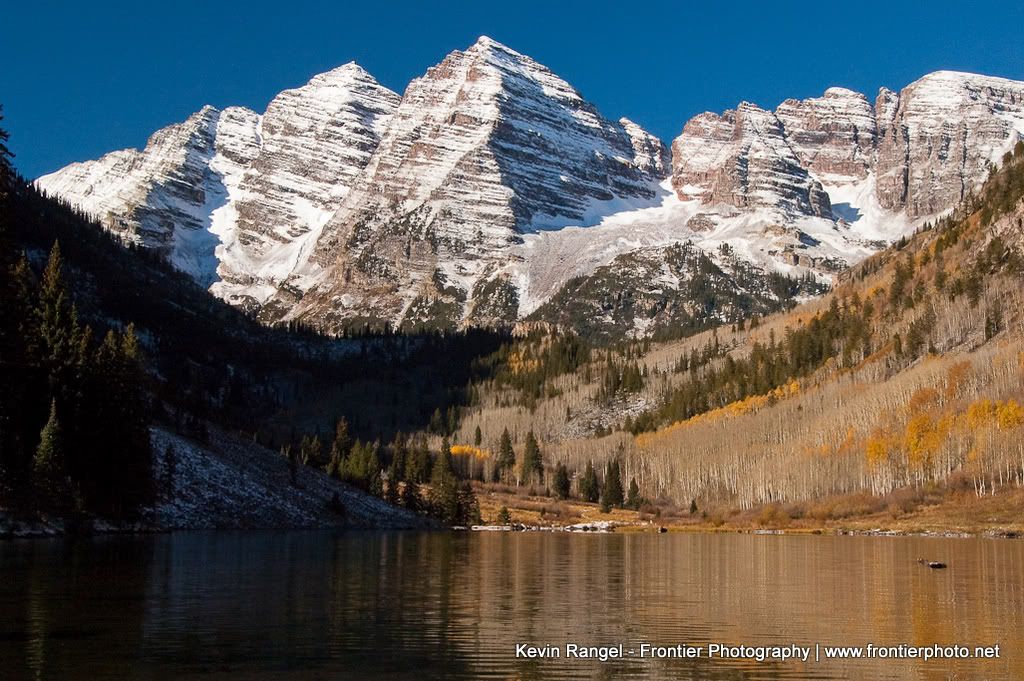 After taking a rediculous amount of photographs I hiked around Maroon lake looking for a unique perspective. But there is no hiding those familiar peaks. Fortunately at the time I arrived, the sun was at my back and my polarizer worked fabulously.
I remember thinking how fresh the air smelled. There was still a chill in the air and the water from the lake was freezing cold. When I walked around the lake, the trail kept going and so did I.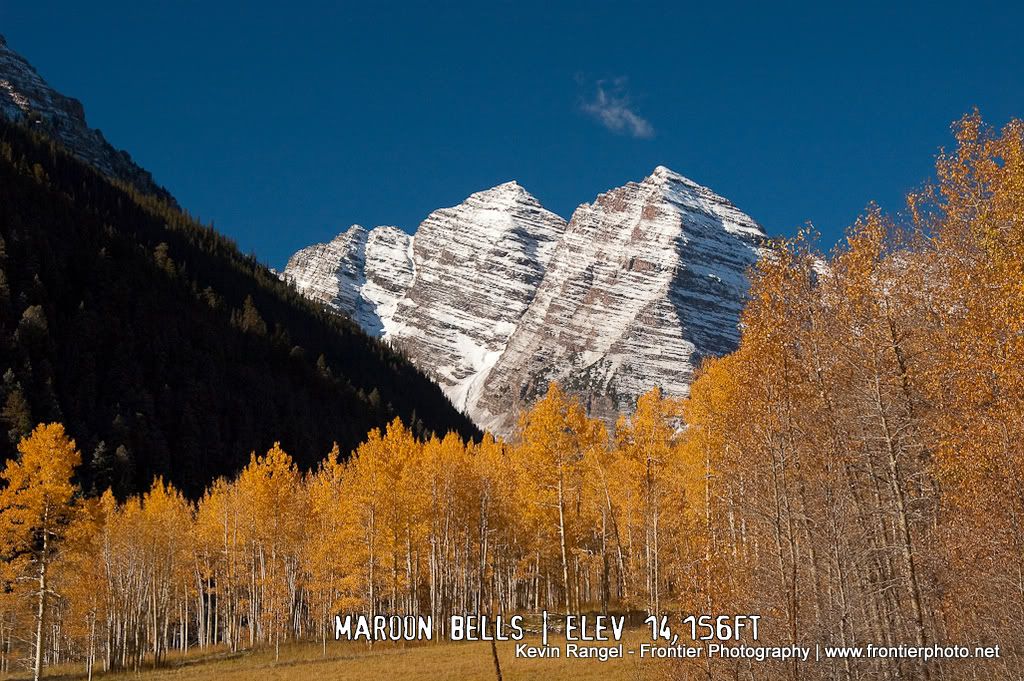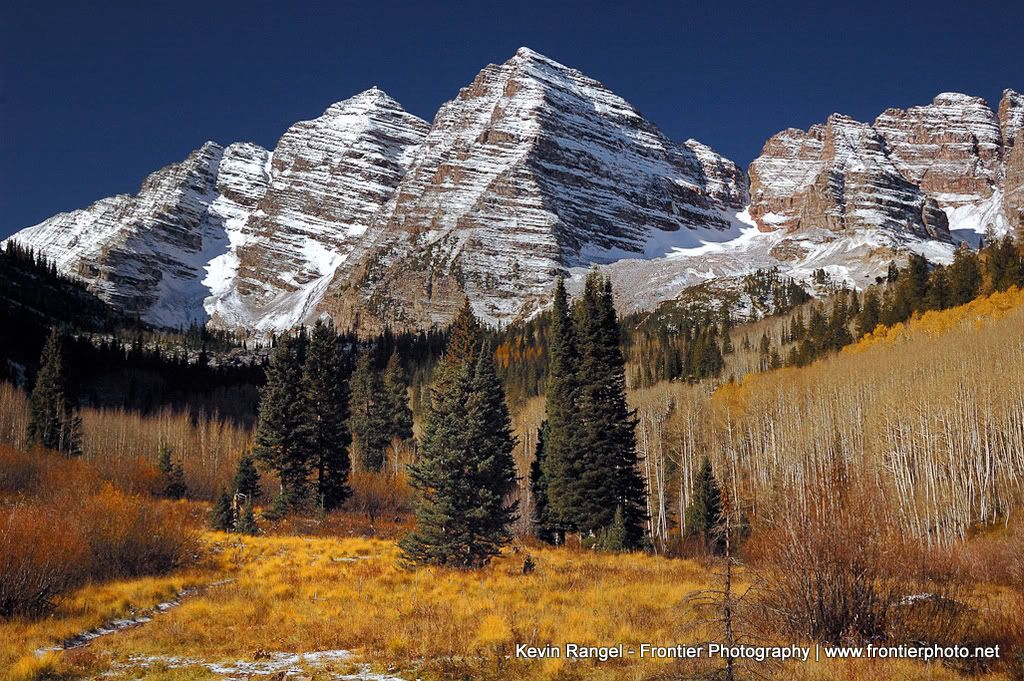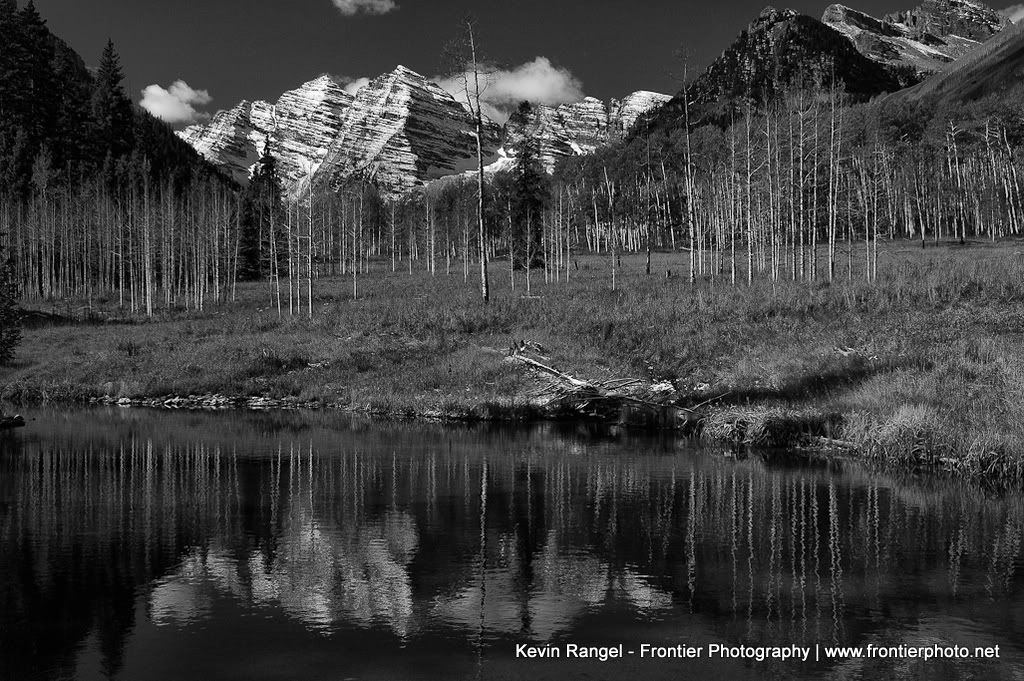 Unfortunately I could not spend any more time here. I knew I had a long drive back to Denver and had to get to my next destination if I wanted to get back at a decent time. Although I did not leave without taking a photo through the side view mirror of my rental car. I guess this is going to have to do as a unique perspective.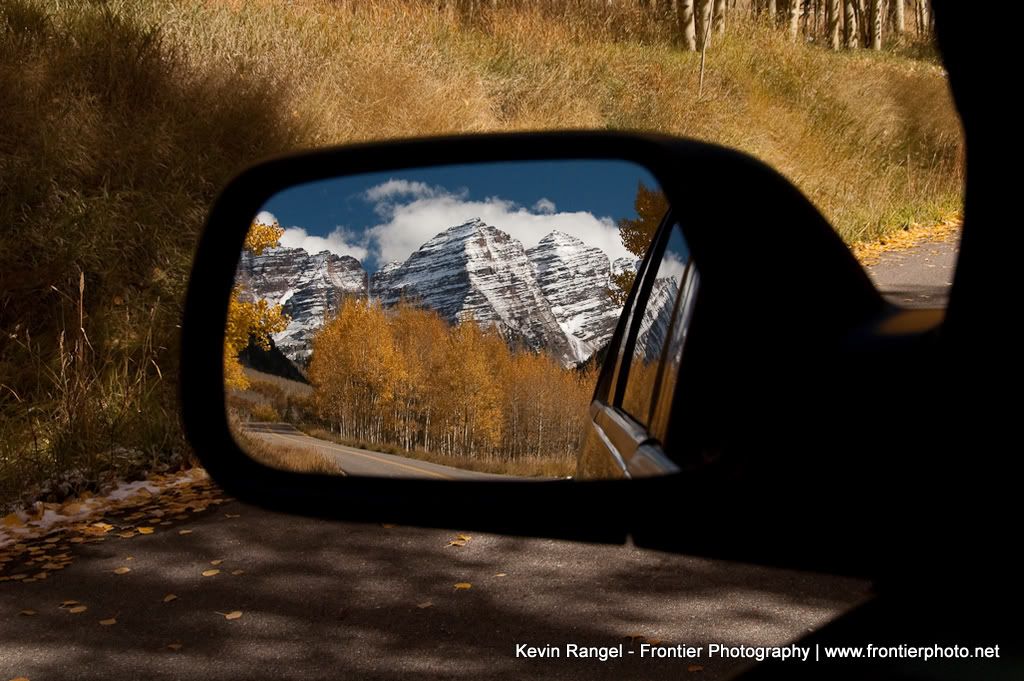 I had a long journey ahead of me. 230 miles to Rocky Mountain National Park via Glenwood Springs via I70 to Kremmling and onto the park. I have been through Glenwood Canyon several times but I wonder what travelers who have never driven through Colorado via the interstate must think when they go through it. The canyon is pretty cool. This place once offered shelter to the Ute indians from other tribes.
And recently gnc genf20 several rock slides have occurred in the canyon with the most recent on March 8 of 2010 , one in 1995 that killed 3 people and on Thanksgiving day in 2004. The rock slide punched a hole through the interstate and not only did $700,000 in damage, but also created a 300 mile detour. So anyone traveling from Denver to Grand Junction had to drive an extra 300 miles out of the way. A huge impact on commercial transportation. The largest stone weighed over 60 thousand pounds.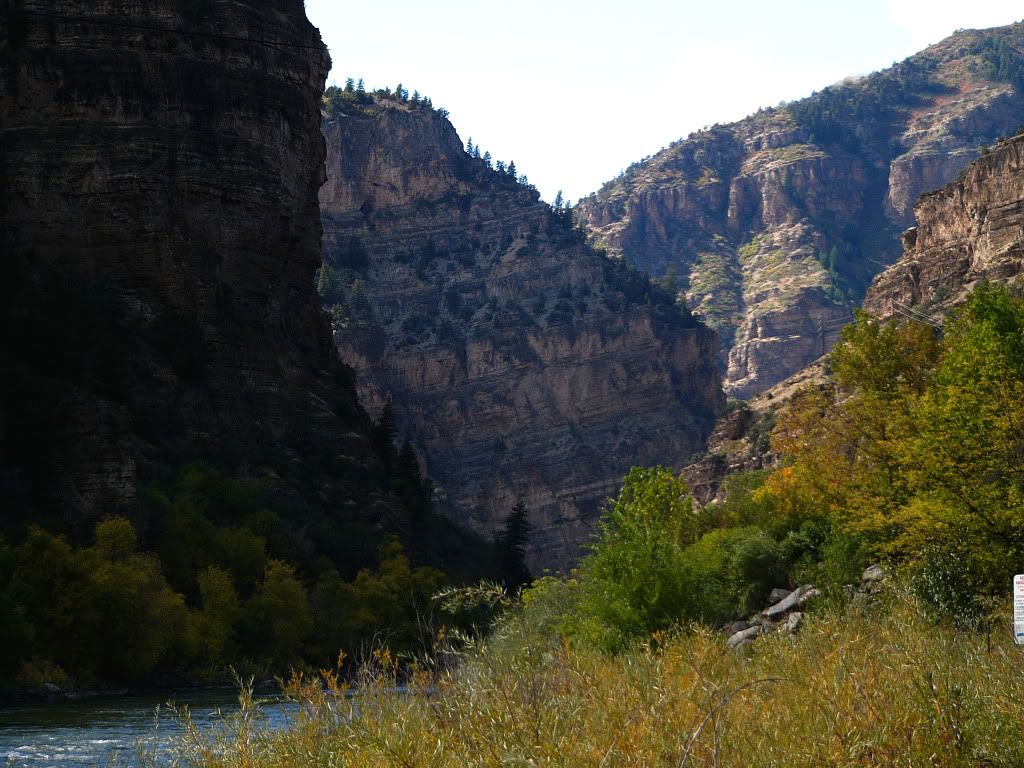 I decided to take a different but longer route I had never driven on before. From Silverthorne I took highway 9 to Kremmling. About 16 miles north of I70 there is the Green Mountain Reservoir with the Gore Mountain range just to the west.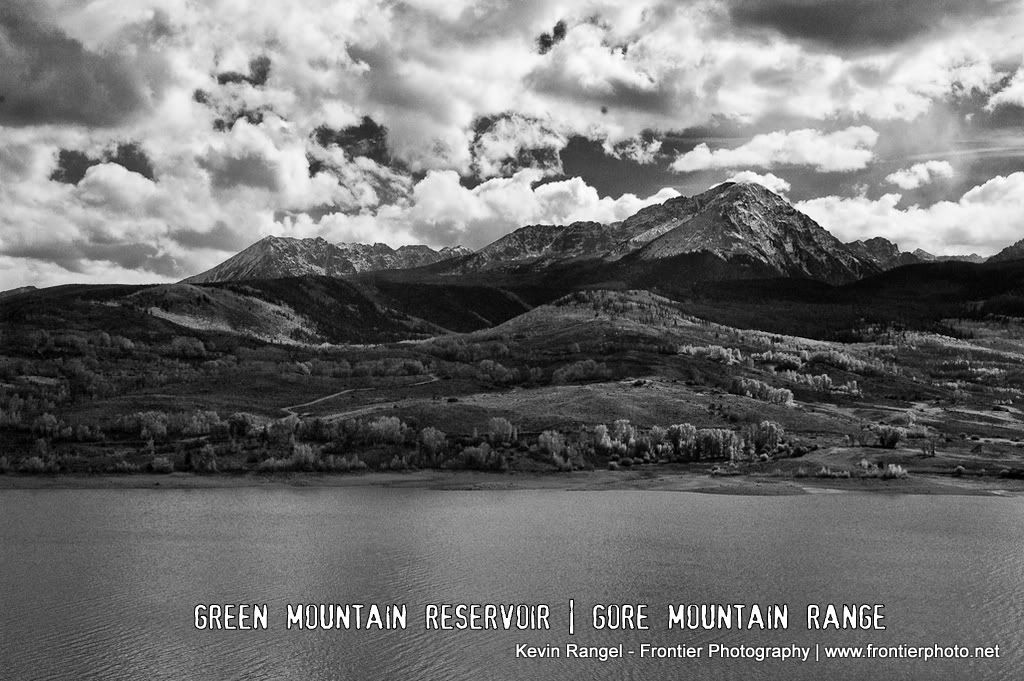 Another 54 miles and I finally reached Rocky Mountain National Park. The sun was starting to go down and clouds were moving in. Not the best lighting but it was working.
To cross through the park you have to drive Trail Ridge Road. Very scenic but again, if you have weak constitutions and are afraid of heights have someone else drive or find something to occupy you until the coast is clear. From the western Kawuneeche Valley side, the road climbs from about 9,000ft to 11,796ft at the Alpine Visitor Center. You have nerves of steel if your adreneline isnt pumping by this time.
Once you leave the visitor center, you climb again up to to Iceburg pass at 11,827ft and then near Fall River Pass at 12,183ft. You can see the Never Summer Mountains to the west. From here the road is easy to navigate before it starts to decend again toward Estes Park.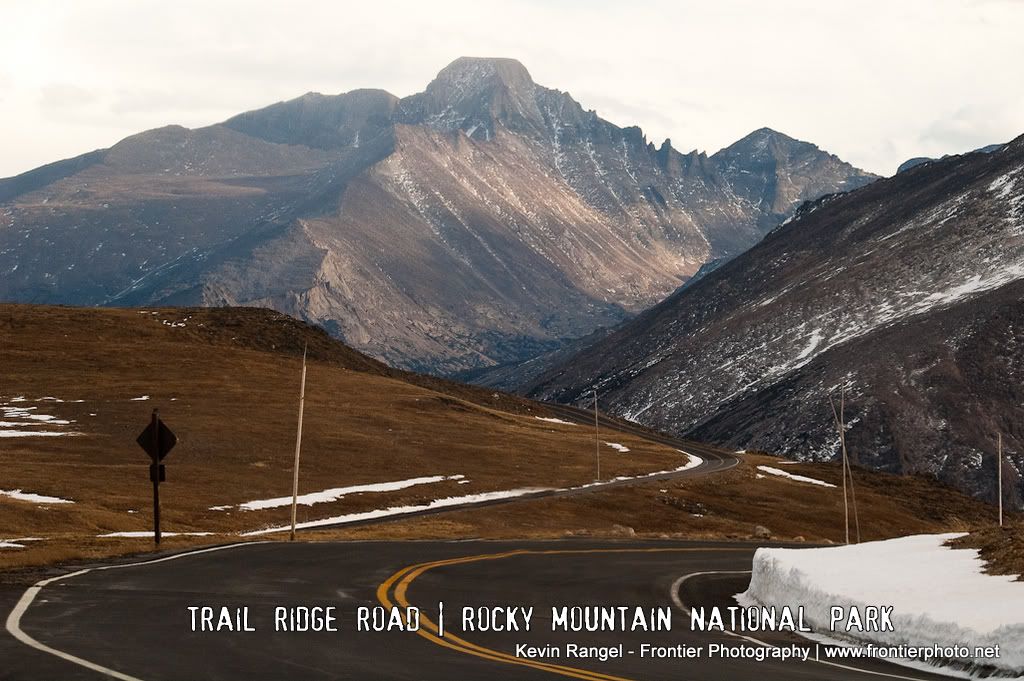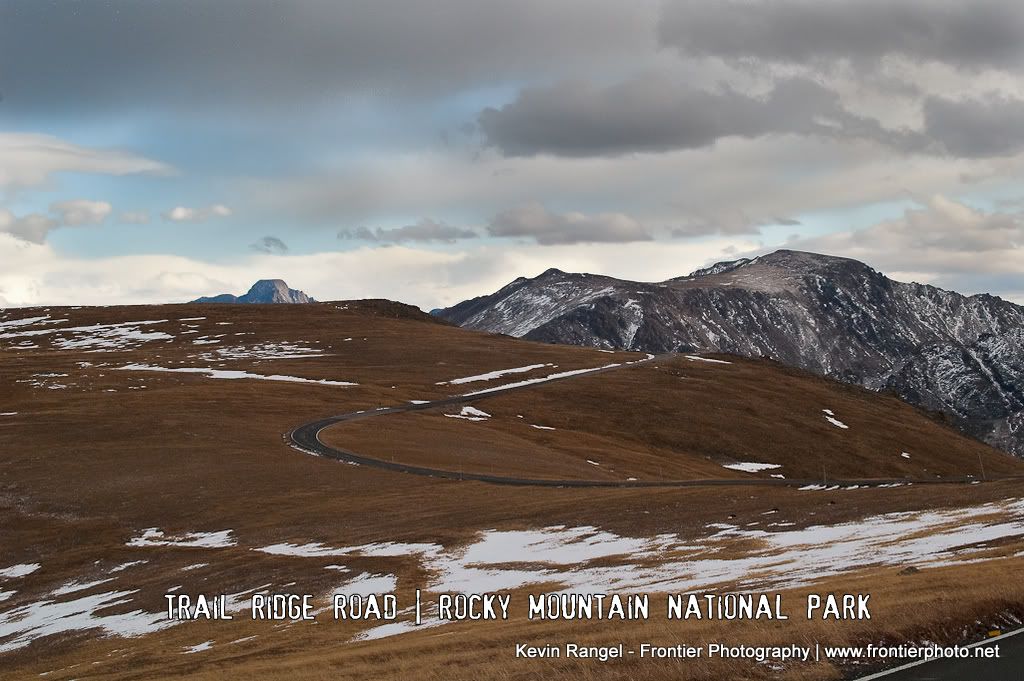 Here my luck was about to change. I was driving along admiring the scenery when an Elk presented itself. He was all alone and looked to be a very young bull.
He came up to the car and said "whud up yo?". Well, not really but it looked like thats what he was about to do. Then out of the corner of my eye, I noticed a larger herd north. This time of the year the elk are in the rut and the males begin to bugle. This behavior is inherent with mating rituals. Interesting is the males will battle using their very large antlers. The winner has the right over the harem which consist of several females. The loser…well he walks away empty handed and lowers his head in shame.
I did a 180 and parked the car at a turnout. I got out and walked toward them hoping to take some decent pics. After all, wildlife had been very scarce all day. There was one bull with a harem of several females. The color of their coats blended perfectly with the surrounding alpine grass.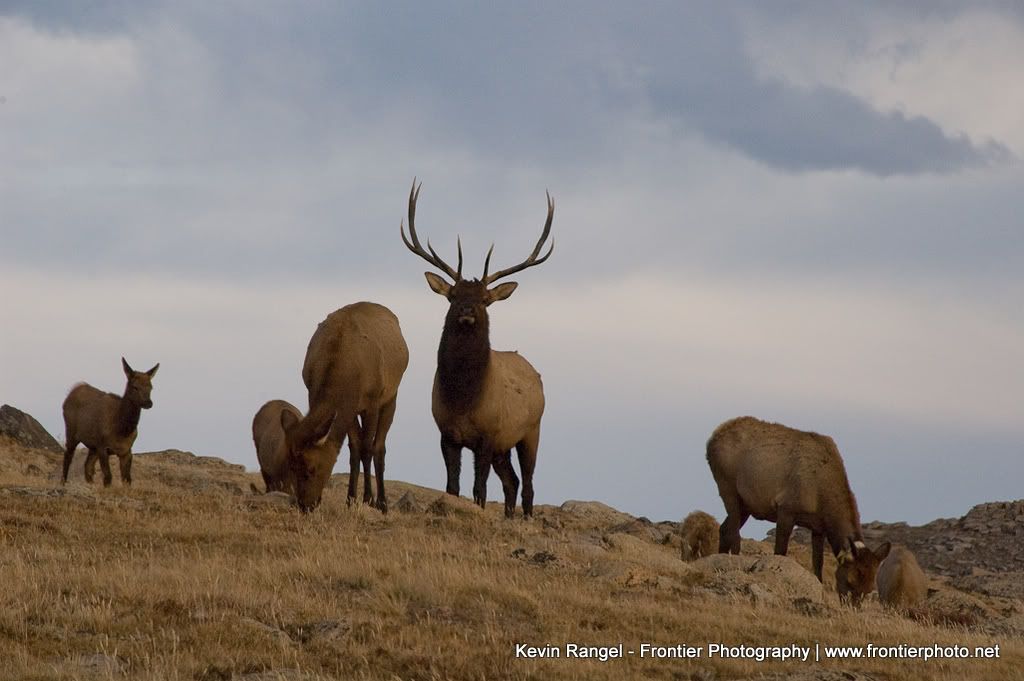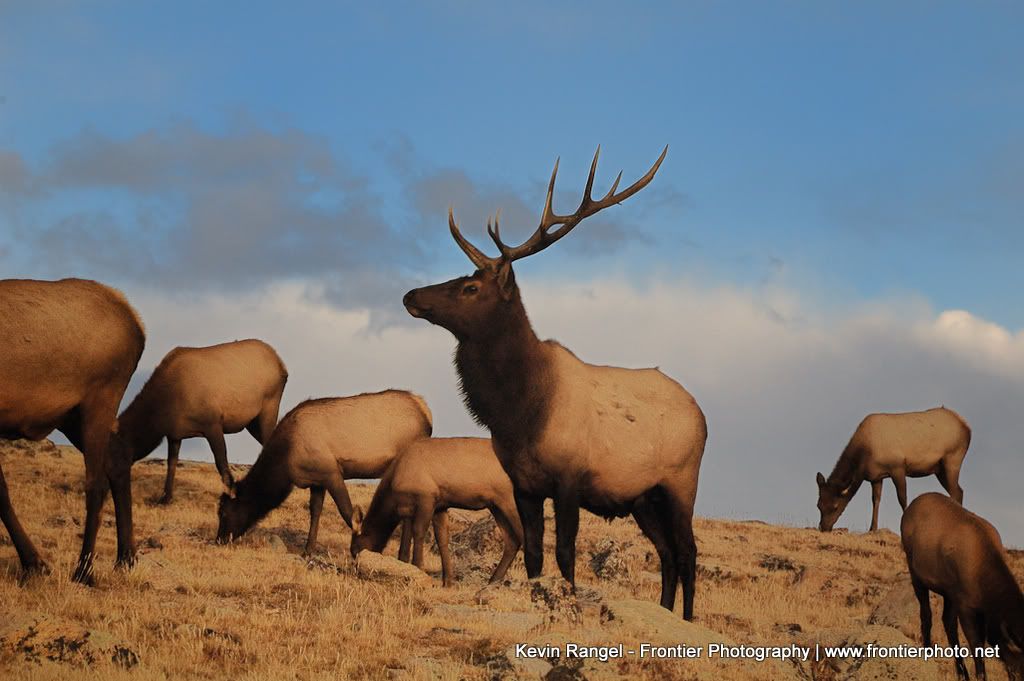 My hands started to freeze and turn numb even with gloves on. But as soon as I turned around, there were 3 male bighorn sheep staring at me. They seemed to come out of nowhere. Of course I couldnt go back to my car now could I? So I kept shooting as the walked past me. What is interesting is that these 3 males were hanging around eachother feeding on the grass and in a month, they will start to rut and battle it out for females. They will head-butt eachother with such power, you wonder how they live through it. Watch the following 12 minute video from the Colorado Division of Wildlife to get a unique perspective of these animals.
Rocky Mountain Bighorn Sheep from Colorado Division of Wildlife on Vimeo.
One of the sheep walked right past me to join the other two and were not the least intimidated by my presence. Of course, at this point any numbness in feeling quickly subsided…or I ignored the pain.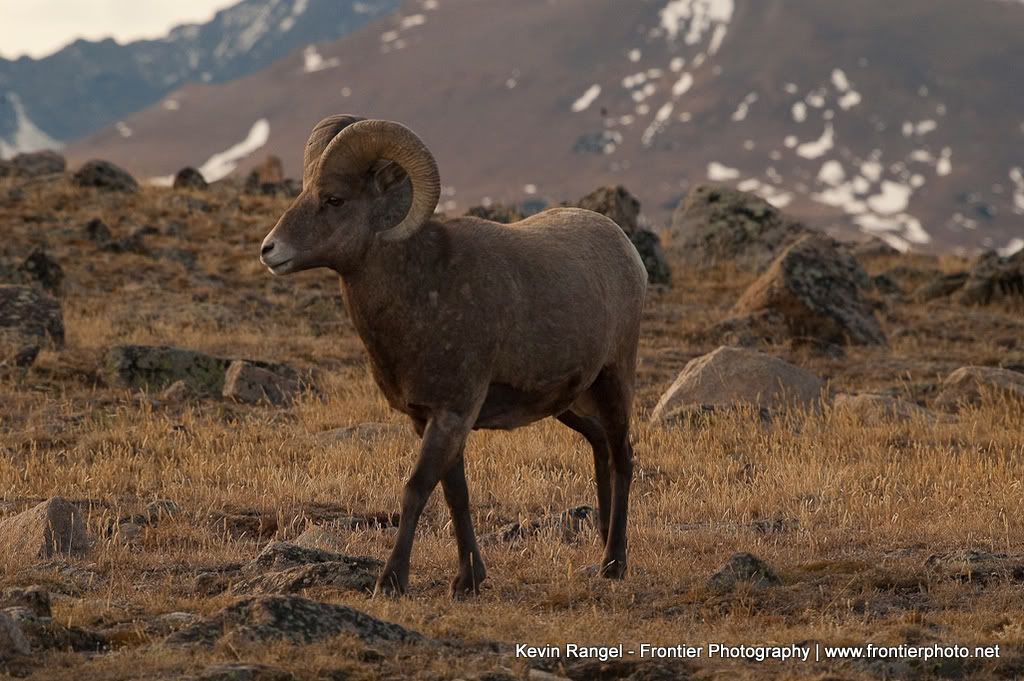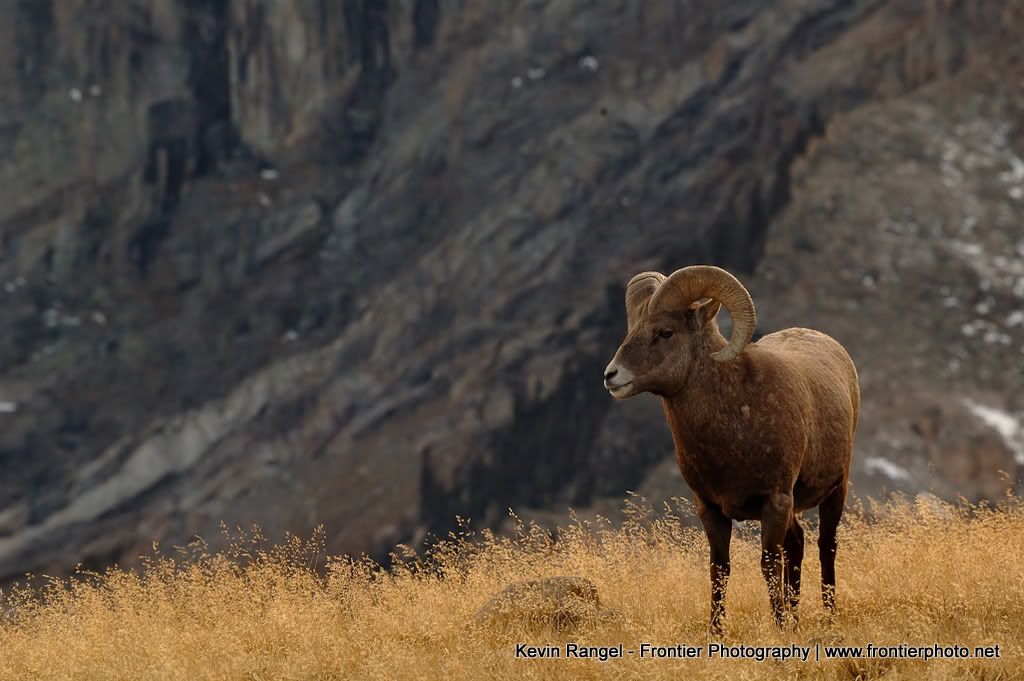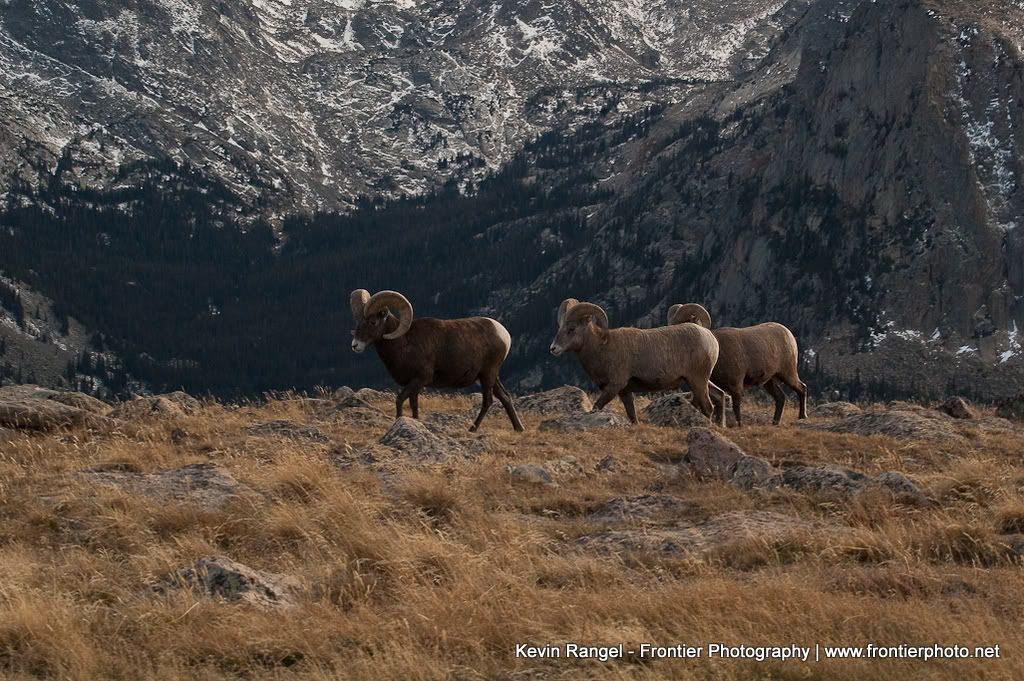 After they left, I started to lose any available light and knew there would be larger herds of elk in the valley below. Sure enough, I was not disappointed. There was alot going on. Males battling it out with others for their harems, other males watching over their harems for other competitors. It was busy.
However, the one sound I love from these animals is their bugle. This video is a perfect example of the kind of noise you will hear all night. So much testosterone, let the hot steamy nights begin..lol!
The best time to see this behavior is the last week of September through the first week of October. It is also when to see the glorious aspen trees.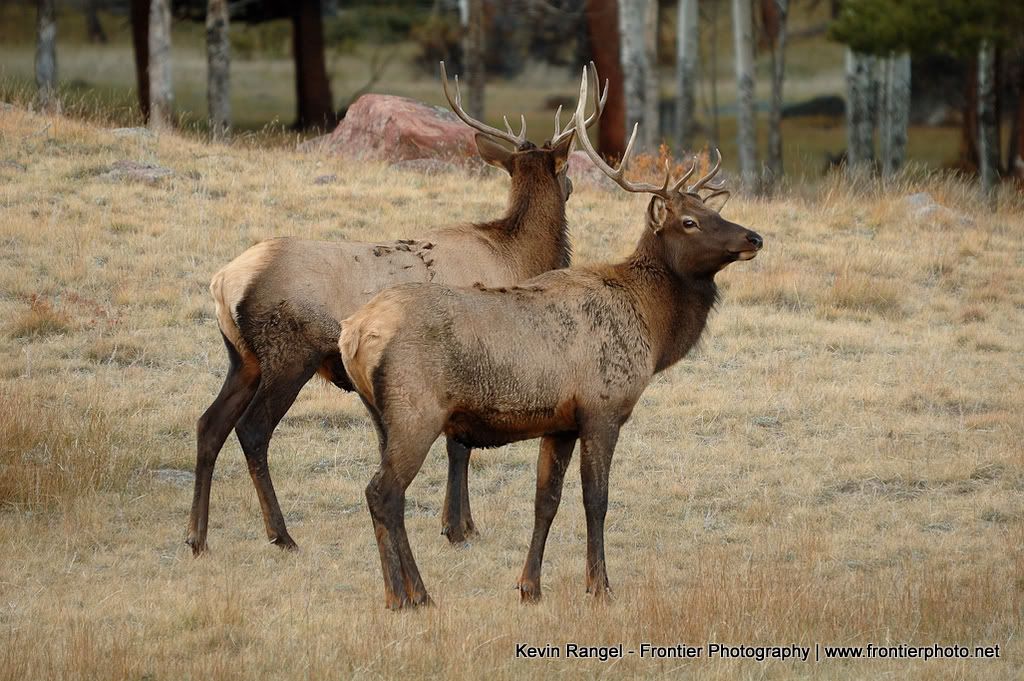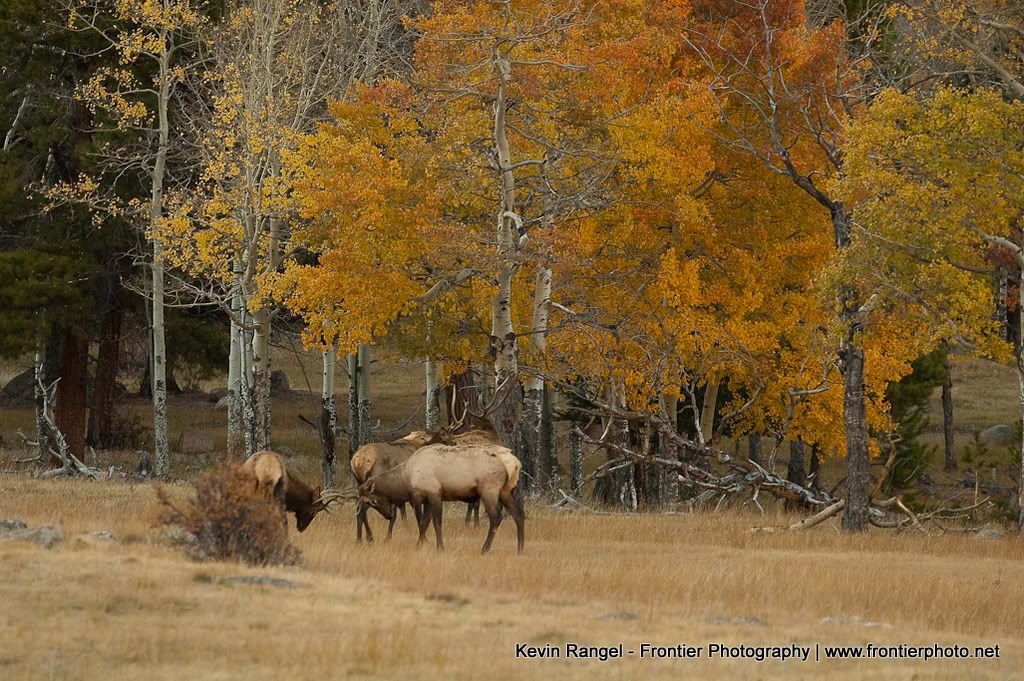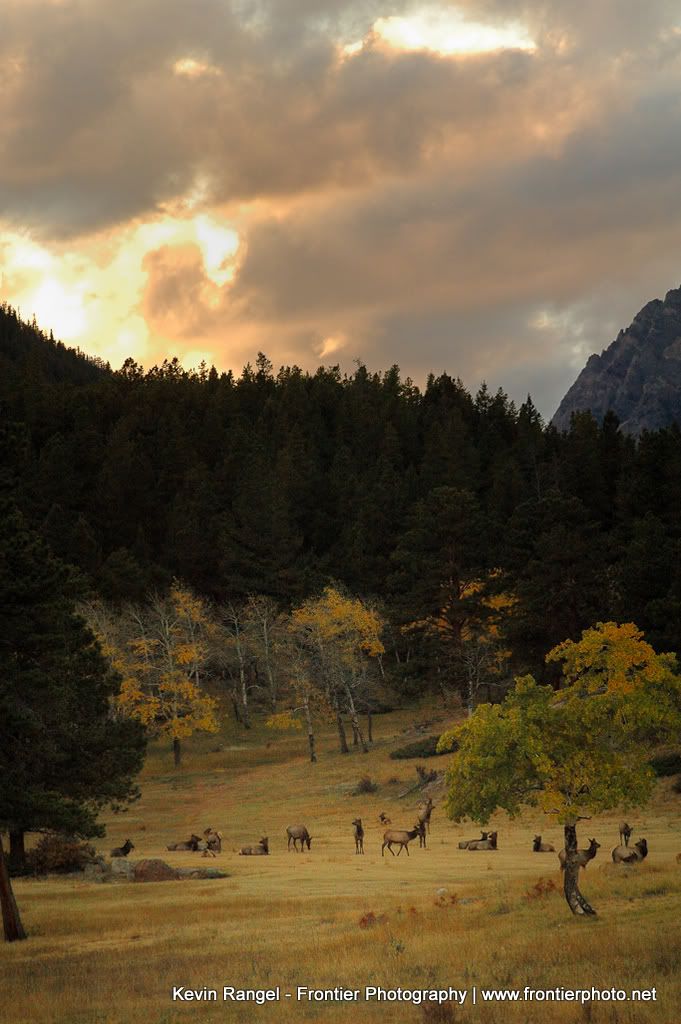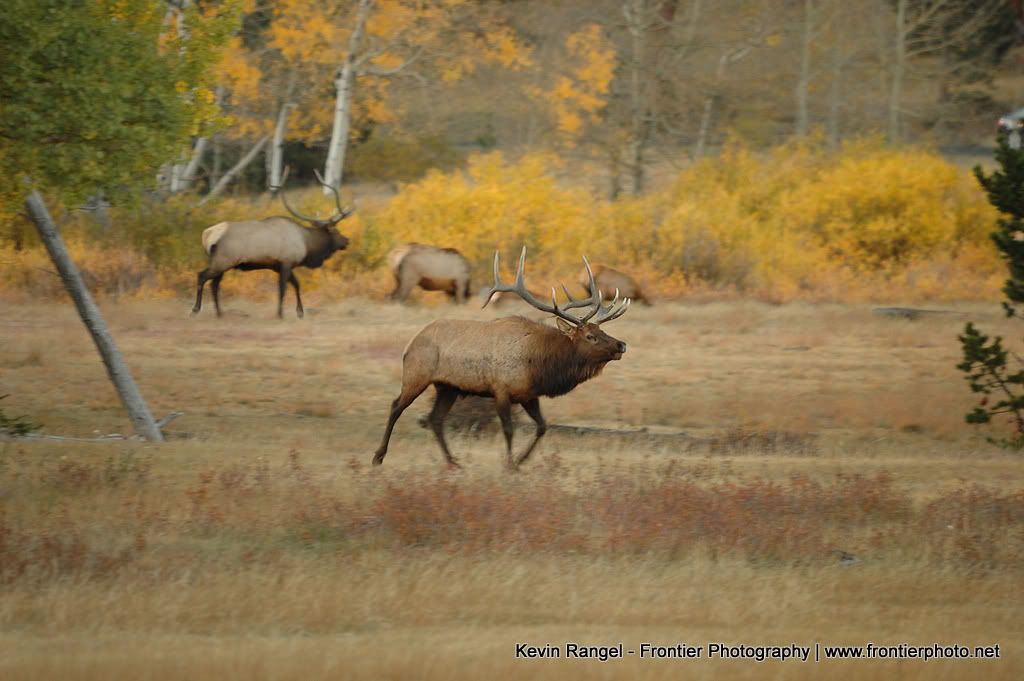 I often wondered if I should have broken this journal into two separte parts because of it's length. Well too late now.
I left Estes Park as the sun went down and there was nothing else to see. I had a long drive back to Denver International Airport and had less than 1 mile left of gas according to the trip meter in the car. Talk about being lucky.
Thank you for taking time to read and view this journal. I hope that at the very least, you had an small sense of what Colorado is like and that one day you would take a journey like this to view the beautiful things this wonderful country of ours has to offer.
Thanks again,
Kevin
---